--News Direct--
For certain cancers that disproportionally or exclusively affect women, like breast and ovarian cancer, there is a bias to focus on the mother's side of the family tree in health conversations. And for many, especially previvors – people living at risk of a particular disease but not yet diagnosed – that seemed like enough. But as research has evolved and our understanding of inherited risk has deepened, it has become clearer that genetic risk on our dad's side of the family can also increase an individual's breast and ovarian cancer risk.
Recently, Cancer Previvor Jen Culton and Board-Certified Physician Assistant, Skyler Jesz, participated in a nationwide satellite media tour to discuss inherited risk from dad's side of the family and some tips to help you take a proactive approach to your health.
A video accompanying this announcement is available at: https://youtu.be/0cFRDhC4JHs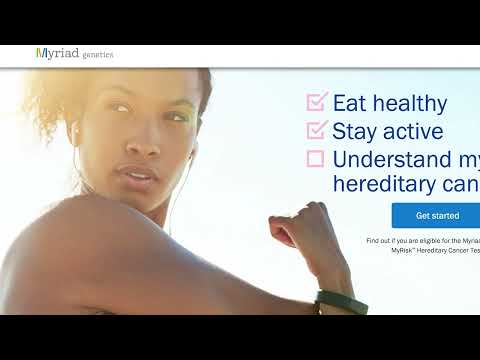 A recent survey from Myriad Genetics,, a leader in genetic testing, underscores that dad's side of the family is often overlooked, and much more:
More than a third of women do not feel knowledgeable about their father's side of the family.
Only 30% of women are very comfortable speaking with their father about their potential risk of getting breast or ovarian cancer, compared to 57% being very comfortable speaking about it with their mother.
This is much lower in comparison to the almost 80% of women who consider themselves knowledgeable about their mother's family health history.
48-year-old Jen Culton sought genetic testing in 2013 after her older sister's breast cancer diagnosis to find out if she might be at risk. Results showed that she carries a BRCA1 gene mutation and is at increased risk of developing the disease. The news came as a surprise. Jen knew her mother's health history and it didn't include cancer. What she didn't know then: her father's family history of cancer; the gene mutation came from him. She used this information to take proactive measures to address her risk.
For more information, visit myriad.com/knowyourrisk
About Jen Culton:
Jen Culton is a 48-year-old living previvor. She is at risk for breast and ovarian cancer and came to learn about it in unexpected and surprising ways. It began with her sister Mickey Marasco. Mickey was diagnosed with breast cancer in 2013. Her doctors recommended she undergo genetic testing, and it was discovered that she carries a BRCA1 gene mutation. While undergoing cancer treatment, Mickey had one request: that all six of her siblings undergo genetic testing as well. The siblings went for testing together, and two of Mickey's sisters (Jen being one of them) were also found to carry the same BRCA1 mutation. For Jen it came as a surprise. She knew her mother's side did not have a history of cancer. Later she learned that her father's side did and the gene mutations actually came from their father's side of the family. But the family's story doesn't end there.
Jen has three biological daughters – 26, 19, and 10 – who are now facing a similar reality. Genetic testing confirmed that Jen's oldest daughter is not BRCA1 positive. Her second daughter, however, inherited the BRCA1 mutation from Jen, as well as an ATM gene mutation from her father. Her chances of developing cancer are extraordinarily higher than that of the average woman, up to 87% for breast cancer. With this knowledge, she's ready to face what's next, and is considering what proactive measures she should take for her health – just like her mom and her aunts, also BRCA1 positive who sought out proactive measures to manage their risks, and all three are now thriving.
About Skyler Jesz, Board Certified Physician Assistant:
Skyler Jesz is an Omaha native. She attended the College of Saint Mary, where she earned a Bachelor of Science in Biology. She moved away from Omaha for the first time to attend the physician assistant program at Des Moines University in Des Moines, Iowa. Upon completion of the program, Skyler began her career in the primary care setting, working in a private family practice just outside of Omaha. After more than four years as a primary care provider, she transitioned to her current OBGYN setting.
Skyler loves being part of a medical practice that puts patients first and uses the most up-to-date research and recommendations to provide comprehensive and compassionate care. She has a passion for preventative medicine, including genetics and cancer risk assessment.
Contact Details
YourUpdateTV
+1 212-736-2727
View source version on newsdirect.com: https://newsdirect.com/news/understanding-inherited-cancer-risk-and-genetic-testing-170207029