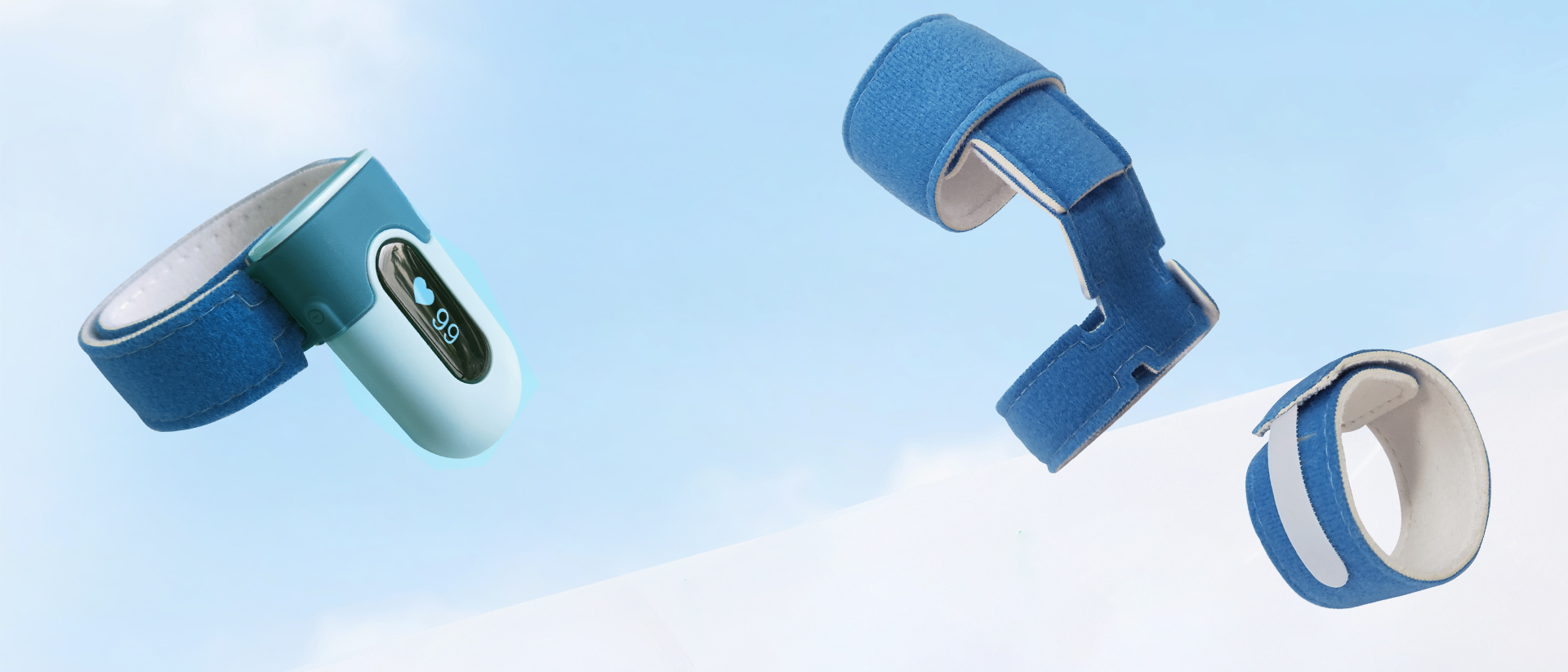 Babytone introduces an innovative pediatric pulse oximeter with a free app and PC software. A Pediatric pulse oximeter measures the oxygen saturation of hemoglobin in the blood. This oxygen saturation is the percentage of hemoglobin that is saturated with oxygen in which the Babytone pulse oximeter can measure oxygen level in the blood and reported as a percentage. The lower limit for normal oxygen saturation levels is generally 85%.
Pediatric pulse oximetry determines newborns' and infants' blood oxygen saturation and pulse rate. It is also called the baby pulse oximeter. It helps monitor the health of an infant. This device may be used with or without sedation at home, in a hospital or emergency room, or in an ambulance. The equipment uses light to shine through a small sensor placed on the infant's foot or finger to measure the amount of oxygen in their blood, which then displays digital readings. These readings are continually monitored by trained professionals in order to detect any irregularities that could indicate a possible illness.  Babytone's pediatric pulse oximetry is designed for infants from birth to about one year old.
In addition, the pulse oximeter, Babytone is a leading infant O2 monitor. An infant O2 monitor is a device that measures the amount of oxygen in your baby's blood and transmits this information wirelessly to your smartphone, tablet, or computer. The monitor also has a sound alert if the oxygen level in your baby's blood drops below an acceptable level. With this device, you can check on your baby while they sleep without causing disturbance or anxiety.
"We create professional and creative pediatric pulse oximeters designed for different kinds of infants (newborns, infants, and children). In addition, our goal is to provide more possibilities to parents and make them enjoy their time with their children happily!" a company spokesperson stated.
Babytone was established in 2013 and is a leading supplier of infant breathing monitor. Babytone is one of the oldest brands providing pediatric oxygen monitors and other health devices for infants. All their products come with the best price, the highest quality, and professional services. In the past nine years, babytone has won many customers' trust and support because of its high quality and low price. One thing that Babytone always focuses on is customer satisfaction. They will ensure that the customers have a fabulous shopping experience on their website and deliver their goods as soon as possible to their doorsteps, just in time for Christmas.
If you are interested in any of their products, please visit their website at https://getbabytone.com/.
Media Contact
Company Name: Viatomtech
Contact Person: Chita
Email: Send Email
Country: China
Website: getbabytone.com