You've Heard of Fallen Angels. But Fallen Knives?
March 17, 2021 at 14:30 PM EDT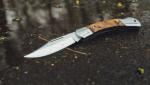 Traders can cut through the red tape of company research and analysis with funds like the Direxion Fallen Knives ETF (NIFE). NIFE seeks investment results that track the Indxx US Fallen Knives Index. The fund, under normal circumstances, invests at least 80% of its assets in the securities that...