Thriller author, Russell Brooks, launches his new murder mystery, JAM RUN, on IndieGogo today. For as little as $20, you will get an advanced eBook copy.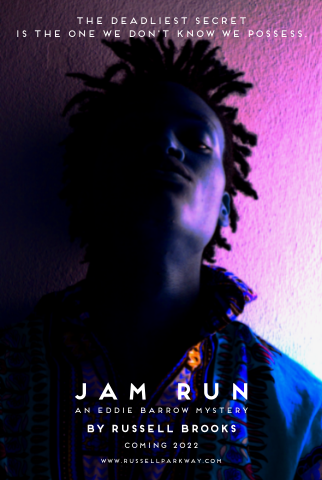 Anjou, Canada - June 18, 2021 /PressCable/ —
FOR IMMEDIATE RELEASE
Launching on IndieGoGo, action suspense author Russell Brooks hopes to raise $20,000 to make JAM RUN available to all readers who love thrillers with murder, betrayal, and revenge.
Montreal, Qc, June 15, 2021 – Thriller author Russell Brooks is pleased to announce that JAM RUN—the long-awaited sequel to CHILL RUN—is scheduled to be published in the first quarter of 2022. Today, JAM RUN launches on the crowdfunding site, IndieGoGo. In this novel, Brooks brings back inquisitive author and amateur sleuth, Eddie Barrow, and his outspoken best friend, Corey Stephenson. After witnessing a gruesome murder while visiting Montego Bay, they both get roped into finding the killer—only to end up evading ruthless assassins once they uncover evidence of a larger criminal conspiracy.
"When social and systemic barriers discourage victims and witnesses of hate or sex crimes from coming forward, it empowers the abusers," said Brooks. "I'm appalled at the level of social acceptance of the 'Buggery Law' and other similar laws in the Caribbean. Vilifying a community with discriminatory laws has repercussions on society," he added. These are some of the roadblocks that Eddie and Corey encounter that complicate their attempts in getting justice for the victim.
Jam Run is inspired by actual events in Jamaica that sent shockwaves around the world. This is why JAM RUN "is a gripping crime thriller about the ever-present menace and violence the LGBTQ communities face daily," according to Montreal journalist and Fugues Magazine columnist Richard Burnett.
What others thought of JAM RUN
"Jam Run is a bold adrenaline rush that leaves you on the edge of your seat. The consummate page-turner of the year." Julie Kindle—Key West, Florida.
"Once again, Russell Brooks has drawn me into his world. A blessing to see the author's passion for details and character development shine from the first pages." Antonio Tolliver—Muskegon, Michigan.
"Jam Run instantly captivates you and takes you on a ride across Jamaica. What starts as two friends hanging out soon turns into a mystery that leaves you wanting more. Another must-read by Russell Brooks." Nate Drysdale—San Antonio, Texas.
"Jam Run is a fabulous thriller that keeps you on the edge of your seat while you read it. I was taken from one extreme to the next, never knowing what is going to happen next! It left me yearning for more!" Laura Clay—Norman, Oklahoma.
About the Author
Born in Montreal, Quebec, Russell Brooks is a Canadian author of Barbadian ancestry. JAM RUN will be his fifth novel in his second thriller series. Brooks is a former track athlete who represented Canada at the World University Games in 1999 in Palma de Mallorca, Spain in the 100m, 200m, and 4x100m relay. He also has a degree in Biology with a minor in psychology from Indiana University in Bloomington, IN.
For more information, please contact Russell Brooks at: russell@russellparkway.com or visit his website at: https://russellparkway.com.
Contact Info:
Name: Russell Brooks
Email: Send Email
Organization: Russell Brooks
Address: 7333 Place des Roseraies, Anjou, QC H1M2X6, Canada
Website: https://russellparkway.com
Source: PressCable
Release ID: 89028570