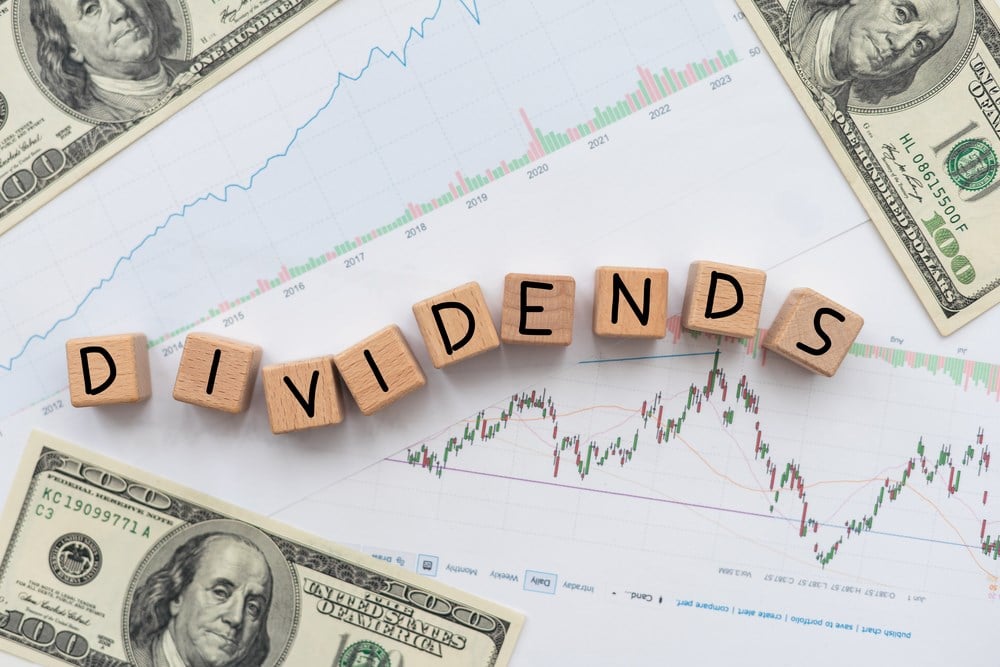 About three-fourths of the S&P 500 pay a dividend. According to S&P Dow Jones Indices, dividends have contributed approximately 32% of total S&P return since 1926. 
The current yield of the S&P is 1.55%. That's below the 10-year Treasury yield, but that's an average. 
Remember: High yields don't come without risk. It's not unusual to find a stock with a high yield because its price is declining, often a sign of trouble. That could mean the dividend will be cut soon. 
Here's a look at some stocks that are among the S&P 500's top dividend-yielding, and what to watch for in each. 
Dividend Yield: 8.72%
You may not like a company that markets cigarettes, which would be understandable, but it does rank among the S&P's best dividend payers. That's been the case for several years, and Altria gets a spot on MarketBeat's list of dividend kings, companies that have a long track record of boosting their shareholder payouts. 
The current annual payout is $3.76 a share, which was increased from $3.60 a share last year. Because cigarette smoking has been declining for decades, Altria understands the need to focus on alternative products, including vape pens and even cannabis to keep the revenue stream coming. 
Dividend yield: 7.86%
Verizon is the largest telecom by market capitalization and revenue. The stock is down 10.77% year-to-date, adding to a decline that began at the end of 2020. Wall Street sees earnings falling this year and next. 
MarketBeat's dividend data for Verizon shows an 18-year history of increasing the dividend payment, landing it a place on MarketBeat's roster of dividend achievers. 
The company is rolling out Verizon Internet Gateway, which combines a router and advanced modem in one unit to streamline 5G connectivity for home Internet customers. 
Dividend yield: 7.84%
AT&T is in a similar business as Verizon, selling wired and wireless telecom services, including Internet. While Verizon is bigger in some ways, AT&T has the largest market share among U.S. wireless carriers. 
AT&T slashed its dividend in February 2022, when it sold WarnerMedia to Discovery, with that resulting business now called Warner Bros. Discovery Inc. (NASDAQ: WBD). According to the company, the post-close dividend accounted "for the distribution of WarnerMedia to AT&T shareholders and AT&T's plans to increase our investment in 5G and Fiber growth areas."
AT&T is an example of a company whose dividend may be at risk. Earnings declined in each of the past three years, and analysts expect that to be the case this year. 
Dividend yield: 7.63%
Analysts expect KeyCorp's earnings to drop by 39% this year. One culprit is lower investment banking fees, due to the merger-and-acquisition business being in the doldrums. 
In its second-quarter earnings report in late July, the company said, "Compared to the second quarter of 2022, noninterest income decreased by $79 million. The decrease was driven by a $29 million decline in investment banking and debt placement fees, reflecting lower merger and acquisition advisory fees and lower syndication fees."
KeyCorp's price-to-book ratio is 0.73%, indicating the stock may be undervalued. That's because investors can buy it for less than its book value. 
Dividend yield: 7.30%
Charlotte, North Carolina-based Truist is among the U.S.' larger regional banks. Its offerings include commercial and retail banking, as well as an insurance brokerage business unit. It also does investment banking and digital lending. 
The company has maintained its dividend payments, and even increased them, but this is another high-yielding stock whose payout could be at risk. MarketBeat's Truist Financial analyst ratings show a consensus price target of $40.82, an upside of 43.23%. That may reflect a widespread expectation of improvement in the entire financial services sector. 
However, Wall Street also expects earnings to decline by 20% this year and another 4% next year, meaning investors would be wise to proceed with caution and monitor the stock carefully.