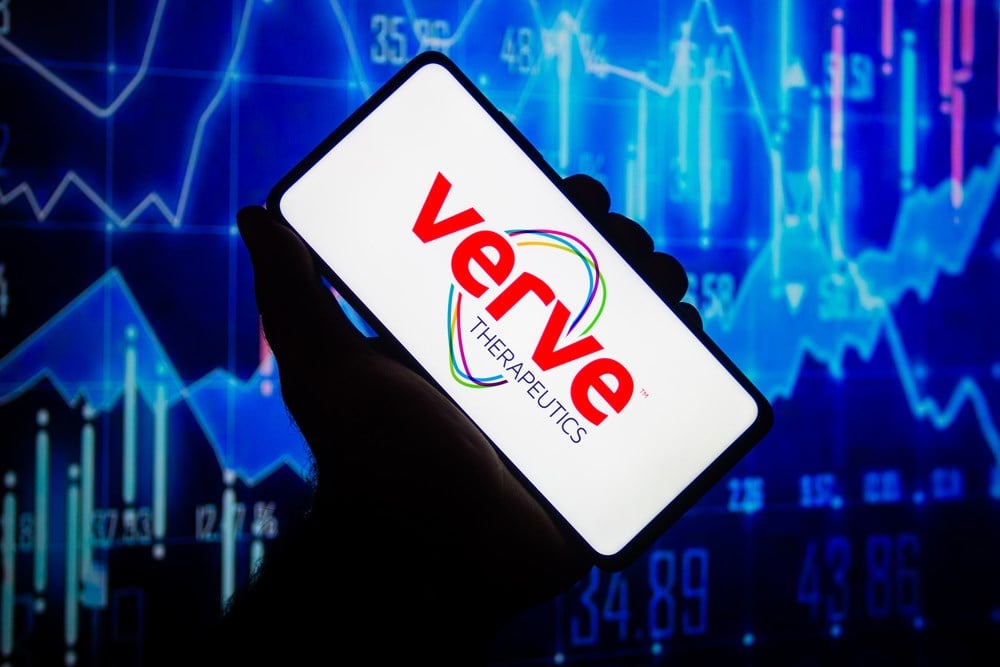 Small-cap biotech Verve Therapeutics Inc. (NASDAQ: VERV) is up 20.74% in June, with some of that gain due to Cathie Wood's Ark funds adding shares. 
Verve, which was founded in 2018 and went public in June 2021, is developing gene-editing treatments, delivered through a single, intravenous infusion, for atherosclerotic cardiovascular disease.
In an interview with CNBC in 2019, Verve CEO Sek Kathiresan, formerly a physician at Massachusetts General Hospital, said, "Our ultimate vision is to protect the world from heart attacks." 
Its lead product candidate, Verve-101, is designed to permanently switch off a cholesterol-raising gene in the liver, and lastingly lower "bad" cholesterol. 
Revenue From Collaborations
Verve is currently a speculative stock with no earnings. It posted revenue of $1.4 million in the most recent quarter, with all of that chalked up to collaborations. In filings, the company named collaborators, including Beam Therapeutics, Inc. (NASDAQ: BEAM) and Vertex Pharmaceuticals Inc. (NASDAQ: VRTX). 
The company recently announced a partnership with Eli Lilly & Co. (NYSE: LLY), aimed at advancing Verve's preclinical stage gene editing program.  
Under the terms of the collaboration, Verve will advance the research and development through the completion of Phase 1 clinical development. Lilly will be responsible for the subsequent development, manufacturing, and commercialization of the program.
Lilly's role in commercialization is dependent upon the treatment showing successful results in clinical trials and then receiving the OK from regulators. 
Two Ark Funds Among Big Owners
Two Ark funds have been accumulating shares of Verve for quite some time. The ARK Genomic Revolution ETF (BATS: ARKG) holds more than $54 million in Verve shares for a portfolio weighting of 2.54%. The flagship ARK Innovation ETF (NYSEARCA: ARKK) holds more than $39 million in Verve shares for a total fund allocation of  0.49%.
Those may seem like puny numbers for a fund's holdings, especially when compared to the ARKK ETF's $926 million stake in Tesla Inc. (NASDAQ: TSLA), its largest position. 
But Verve's market capitalization is just $1.166 billion, and it only has 32.8 million shares in float. 
MarketBeat's Verve Therapeutics institutional ownership data show that Verve's largest shareholder is Alphabet Inc. (NASDAQ: GOOGL), which owns a stake valued at $376.96 million, totaling 17.815% of Verve shares. 
Alphabet Significant Early Backer
Alphabet has been actively investing in life sciences research through its venture-capital investing arm, GV, as well as through its experimental health-technology unit, Verily.
The Alphabet units have been significant backers of Verve, whose aim is to reduce the risk of heart disease, the leading cause of death in the U.S. Verve is working on an injectable treatment that would eliminate the need for millions of patients to take pills on a daily basis.
The project was incubated in X, previously known as Google X, the research and development lab responsible for initiatives including Waymo self-driving cars. 
The second largest Verve holder is FMR Capital, which is an investment advisor affiliated with the brokerage Fidelity. 
Ark is the third largest owner of Verve shares. 
Don't Expect Profits Soon
All of those investors, as well as others, are in this for the longer term, as Verve, like many young biotechs, isn't expected to see profit any time in the near future; in fact, Wall Street analysts expect losses to widen this year and next. 
The Verve Therapeutics chart shows the stock rallying immediately after the Eli Lilly partnership announcement but reversing soon after. That suggests profit-taking by investors who bought at a lower price. 
Although Verve is still small and unprofitable, it's attracted a healthy amount of analyst coverage. That's often the case with techs and biotechs, where successful product launches could result in big returns to investors, often through an acquisition by a larger firm. 
MarketBeat's Verve Therapeutics analyst ratings show a consensus view of "hold," with a price target of $38.63, an upside of 106.22%. There have been no analyst actions since April, meaning no changes since the company reported its first quarter and announced the Lilly collaboration.