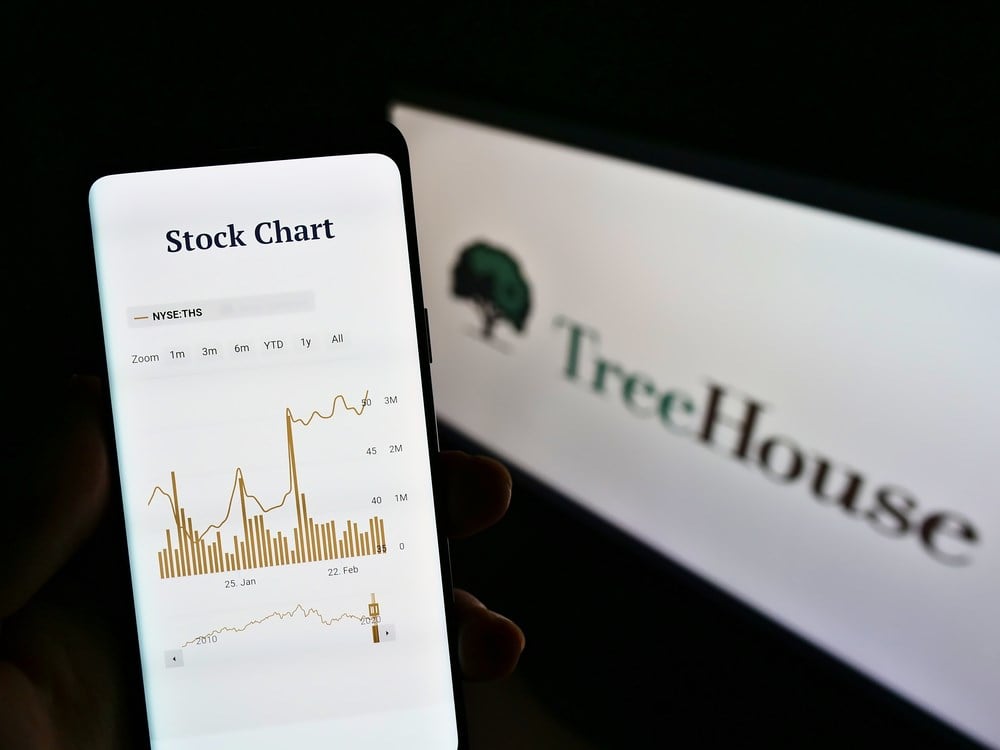 Shares of TreeHouse Foods Inc. (NYSE: THS) are branching out to new heights as the stock approaches a buy point, and is already actionable.  
Illinois-based Treehouse specializes in private-label and store-brand products across various categories. Its customers include Walmart Inc. (NYSE: WMT), Amazon.com Inc.'s (NASDAQ: AMZN) Whole Foods, The Kroger Co. (NYSE: KR) and Trader Joe's, among others. At the end of 2022, its largest customer, Walmart, accounted for 22.1% of total sales. 
In 2022, it sold off a large part of what it called its "meal prep" business unit, which consisted of low-margin pantry staples such as pastas, sauces, and condiments. It fetched $950 million in that sale. The company used $500 million of the net proceeds to pay down debt.
With that sale, the company is now able to focus on higher-margin snack and beverage products.
Analysts See Earnings More Than Doubling
Wall Street apparently likes the remodeled TreeHouse. Analysts expect the company to earn $2.66 per share this year, a gain of 148% over 2022. 
Although this is a small company, with a market capitalization of around $3.045 billion, it's gaining institutional support. If you set the TreeHouse Foods chart to a daily view, using bars or candlesticks, you can clearly see buying that began on June 7. That's the day the company announced it would acquire a Farmer Bros. coffee production facility for $100 million. 
Investors cheered the move, as part of the new focus on higher-margin products. 
Farmer Brothers was already a  TreeHouse supplier. TreeHouse said, "The acquisition is expected to create greater profit capture in the supply chain." TreeHouse will also assume some Farmer Brothers' customer relationships.  
Consensus View Of "Moderate Buy"
TreeHouse Foods analyst ratings show a consensus view of "moderate buy," with a price target of $56.80, an upside of 5.28%. That's a good place to take another look at the TreeHouse chart, and its current uptrend. 
The stock is rapidly approaching a $55.40 buy point of a consolidation that began on May 8. The stock is currently actionable, as the recent strong momentum indicates that institutions have renewed conviction in the company. Trading volume has been heavier than normal in the past five sessions, with volume more than double average levels on June 12 and June 13. 
An investor day presentation on June 13 got the stock moving early in the session, with a gap-up of more than 2% at the open. 
The company's 2024 growth targets include:  
3%-5% revenue growth
8%-10% growth of adjusted earnings before interest, taxes, depreciation and amortization (EBITDA)
$200+ million of free cash flow
It also laid out its pathway for achieving that growth. Those include: 
Driving category leadership in high-appeal categories, which include snacks, coffee, and frozen and refrigerated foods, and in-store bakery items.
Deepening strategic customer relationships with the largest food and beverage retailers.
Building a world-class supply chain as a key competitive advantage as the company targets over $250 million in cost savings from 2024 through 2027. It also plans to efficiently deploy capital to support supply chain optimization and growth. The Farmer Brothers acquisition is an example of this strategy at work. 
Investing in the business to drive organic growth. 
The company also reaffirmed its previously-issued second-quarter guidance,  and raised and narrowed its adjusted EBITDA guidance for fiscal year 2023. In the current quarter, the company anticipates revenue in the range of $810 to $840 million, representing flat to 4% growth versus the prior year. 
It expects adjusted EBITDA between $65 to $80 million. 
History Of Beating EPS Views
You can glance at MarketBeat's TreeHouse Foods earnings data to see that the company has a history of beating analysts' earnings estimates, although revenue has fallen short on occasion. 
For the full year, the company now expects 
Net sales growth of 6% to 8% year-over-year, which represents a range of $3.66 to $3.73 billion
Adjusted EBITDA of $355 to $370 million, up approximately 26% year-over-year at the midpoint.
As the company successfully navigated pandemic-related supply chain issues, and is in the process of shifting its focus to higher-margin products, this is a small-cap stock worth keeping on a watch list.