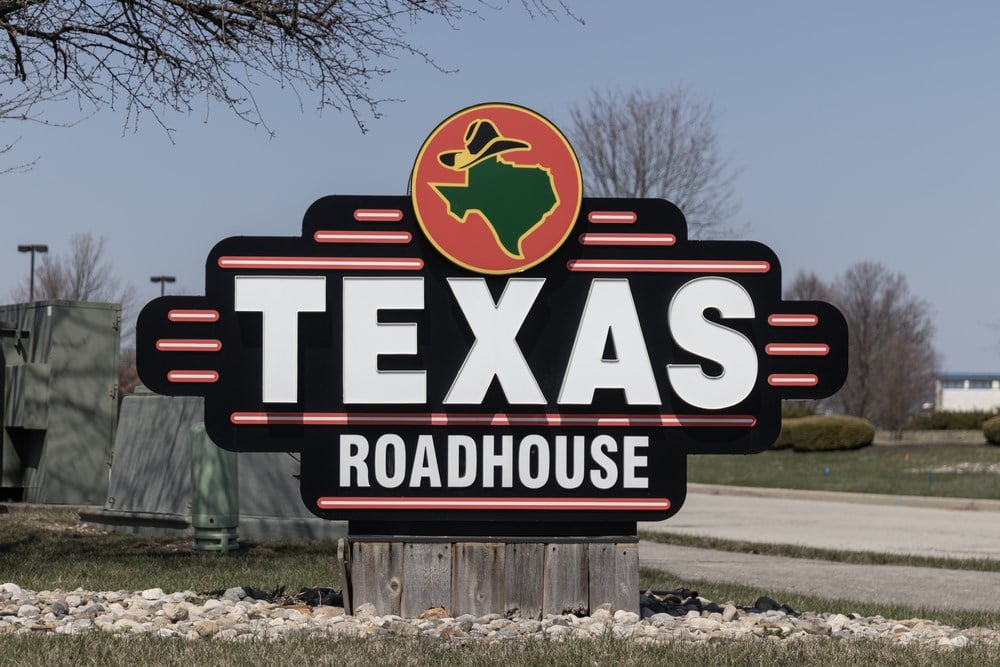 Shares of casual dining chain Texas Roadhouse Inc. (NASDAQ: TXRH) were holding steady above their 50-day average on May 5, even as the company missed first-quarter views, as Texas Roadhouse earnings data show. 
Despite the miss, several analysts boosted their price targets on the stock, as the company reiterated expectations for positive sales growth, 25 to 30 Texas Roadhouse and Bubba's 33  restaurant openings. It kept guidance the same for inflation of inputs including commodities and labor.  
Texas Roadhouse stock gapped down 3.65% following the report, which was released May 4 after the closing bell. The company earned $1.28 per share, up 19% from the year-ago quarter. That wasn't enough for investors, who were expecting $1.39 a share.
Serving Up Strong Revenue
Revenue of $1.174 billion topped views, and was also 19% higher than a year ago. The bulk of revenue consists of restaurant sales, while a smaller percentage comes from franchise fees. 
Even as the stock declined on the earnings miss, the 50-day support is significant, as it indicates institutional investors still have conviction in the company. 
It's the second quarter in a row in which the company missed earnings views, yet it hasn't affected the stock's price very much. Texas Roadhouse stock has posted solid returns:
1 month: 2.80%
3 months: 10.28%
Year-to-date: 23.78%
With a market capitalization of $7.251 billion, the stock falls squarely into mid-cap territory. It's part of the S&P 400 mid-cap index, tracked by the SPDR S&P MidCap 400 ETF Trust (NYSEARCA: MDY). 
Outpacing Mid-Cap Index
Texas Roadhouse is easily outperforming its index, which has been trending lower this year, hitting resistance after a rally attempt in late January and early February. Mid-caps' rally try occurred simultaneously with the same trajectory in the large-cap S&P 500. 
The Texas Roadhouse chart illustrates how the stock defied the broad market pullback, and has been trending higher since January. 
Texas Roadhouse analyst ratings show a consensus view of "hold." Following the earnings report, five analysts boosted their price targets on the stock. Citigroup lowered its target but still expects more than 10% upside. 
At the end of 2022, the company owned and operated 597 restaurants and franchised an additional 62 domestic restaurants and 38 international restaurants.
In its earnings release, Texas Roadhouse noted that comparable restaurant sales at company-owned restaurants for the first five weeks of the current quarter increased 8.6% compared to a year ago. In addition, the Company implemented a menu price increase of approximately 2.2% in late March. It noted that 2023 sales projections were net of those price increases. 
Price And Earnings Leader
Within the restaurants sub-industry, Texas Roadhouse is among the leaders when it comes to a combination of earnings growth and price appreciation. Its three-year earnings growth rate is stellar, at 82%; its three-year sales growth rate is also solid, at 22%.
Other price-and-earnings leaders in the category include Chipotle Mexican Grill Inc. (NYSE: CMG), Red Robin Gourmet Burgers Inc. (NASDAQ: RRGB) and Wingstop Inc. (NASDAQ: WING). 
Texas Roadhouse stock rallied to a new high just days ahead of earnings; the May 5 pullback could be the start of a new consolidation. Another possibility would be the stock getting support along the 50-day line as it takes just a momentary breather. Either scenario could offer a new buy opportunity, potentially in the coming weeks.
Remained Profitable Despite Covid
The Texas Roadhouse dividend yield is 2.5%. As you might expect, the company slashed its dividend dramatically in 2020, as restaurants were hit hard by Covid closures. The company remained profitable, earning $0.45 per share that year, down more than 81% from 2019. 
Not only did profit rebound substantially in 2021, as was common throughout the restaurant industry, but Texas Roadhouse also restored its dividend to the 2019 rate of $1.20 per share. The current annual dividend is $2.20 a share.