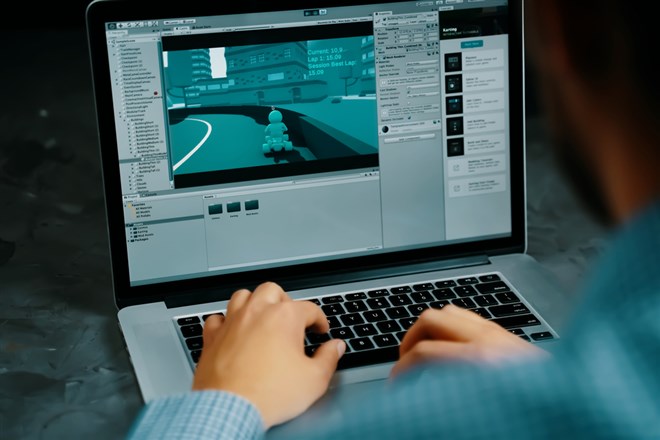 Video game engine developer Unity Software Inc. (NYSE: U) stock collapsed on its Q4 2022 earnings release. The company made its first non-GAAP profit since going public and beat revenue estimates. However, it made the fatal mistake of guiding down its next quarter's revenues. The Unity game engine enables more efficient and accessible video game development. Unity owns half the market share for video game engines developers use and an estimated 60% of mobile games.
Take-Two Interactive Software Inc. (NASDAQ: TTWO) owned Zynga has used Unity's game engine for its popular Word with Friends and Farmville franchise mobile games. Major gaming consoles by Sony Co. (NYSE: SNE) PlayStation 5 and Microsoft Co. (NASDAQ: MSFT) Xbox) have many games developed on the Unity game engine.  
Runup Into Earnings
Just days before its earnings release, Unity shares had run up to as high as $43 on the heels of a strong earnings release from Roblox Co. (NASDAQ: RBLX) on Feb. 15, 2022. Roblox showed improvement in daily active users (DAUs) and the return of rising bookings. Roblox shares spiked over 25% on its earning release. Unity shares went along as these stocks tend to move together in sympathy. However, Roblox provided a strong forecast, while Unity lowballed its guidance, opting to be more conservative.  
Milestone Quarter
On Feb. 22, 2022, Unity released its fiscal fourth-quarter 2022 results for the December 2022. Revenues grew 42.77% year-over-year (YoY) to $451 million beating $428.3 million consensus analyst estimates. The company reported a non-GAAP earnings-per-share (EPS) profit of $0.05, beating analyst estimates of $0.02 by $0.03. GAAP operating losses were ($274 million) or ($0.82) EPS due to a spike in operating expenses and stock-based compensation.
Create and Grow Divisions
Its Create division, the gaming engine platform, had $198 million in revenues. It's continuing to grow its customers outside of video games on the business development for enterprises side. Its Grow Solution division which includes the IronSource in-game advertising and monetization platform had revenues grow to $253 million. The company had record full-year 2022 revenues of $1.39 billion, up 25%. Q4 2022 was its first non-GAAP profitable quarter since being public.
Game Developer Market was Surprisingly Resilient
Unity CEO Luis Visoso commented, "We're seeing strong DAUs or users in our network suggestive of overall gameplay that remains strong." He assured analysts that the gaming market was "surprisingly resilient." Game developers are as "productive as they've been before." Remember, their customers are developers and not end-user video game players. He continued, "And then, within the industry side, where we reported over 100% growth last year in digital twins, there continues to be robust demand. And so some elongated sales cycles where people take a little bit longer to decide, but when you've got demand far in excess of our ability to supply, we're in a pretty good spot and we're not feeling a pinch.
Digital Ad Market Stabilized as of Mid-2022
He also commented that the ads market had stabilized by the middle of 2022 and continued to stabilize into 2023. He says weak effective costs-per-mile (eCPMs) are offset by more robust user engagement. The term miles refers to a thousand impressions. He concluded, "We want to be conservative. But all in, the markets are solid. There is not a lot of concern here." This caused shares to collapse, as he implied they were purposely lowballing revenue estimates.
Lowball Guidance
Unity issued lower guidance for its Q1 2023 revenues to come in between $470 million to $480 million versus $524.21 million consensus analyst estimates. For the full-year 2023, Unity expects revenues of $2.05 billion to $2.20 billion versus $2.17 billion consensus analyst estimates.
Analyst Reactions 
After assuring investors that the developer market was robust and ad spending stabilized, the lowered revenue guidance surprised investors and analysts. Oppenheimer cuts its rating from Outperform to Perform. Analyst Martin Yang felt its valuation multiple of 7X enterprise value over its 2023 sales estimates is more than priced into the shares. Unity's leading market share in mobile gaming, stabilizing of ad spending, and focus on expanding its non-gaming customer base keeps him bullish on the stock. Jeffries gave U an Underperform rating due to the weak Q1 2023 top-line guidance and believes its 2023 guidance may be too optimistic.  
Weekly Rectangle Trading Range
The weekly candlestick chart on U illustrates the six-month weekly triangle trading range between the $42.53 upper trendline and the $21.22 lower trendline. U triggered a market structure low (MSL) breakout through $32.89 at the start of 2023 as it climbed towards a high of $42.99 on the coattails of RBLX's strong earnings release on Feb. 15, 2022.
Shares started to retract and got pulverized the following week on its Q4 2022 earnings release. The weekly stochastic crossed back down through the 60-band. The weekly market structure high (MSH) sell trigger formed on a breakdown under $29.01. Pullback supports are $29.01 weekly MSH trigger, $26.92, $24.69, and $22.57.
Shares continue to be trading within the rectangle trading range.