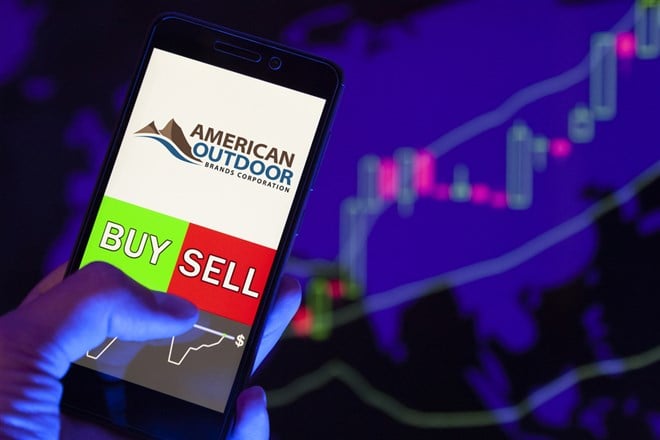 American Outdoor Brands, Inc. (NASDAQ: AOUT) is up nearly 1.0% the day after the company reported disappointing earnings for its fiscal third quarter. American Outdoor Brands missed on both the top and bottom lines. But the company may be enjoying a halo effect from the strong results of its former parent company.  
For investors who may not be familiar, American Outdoor Brands has had a brief but active history as a publicly traded company. The company went public in 2020 after completing its spin-off from Smith & Wesson Brands, Inc. (NASDAQ: SWBI).  
Within its first year of trading publicly, AOUT stock more than doubled and reached an all-time high of $35.14 on June 30, 2021. But that's as good as its been for the company. The stock has given up all those gains and is now trading below its launch price.  
However, AOUT stock is up over 40% since closing at a 52-week low of $7.10 in August 2022. Analysts on MarketBeat.com give the stock a buy rating with a $!4 price target that would give investors an additional 40% upside.  
Trading at around 10x earnings and with manageable debt, AOUT stock could offer some value for growth-hungry investors. But whether or not it can achieve that growth will depend on the continued strength of the consumer. 
What Did Earnings Say? 
On the top line, the company generated revenue of $50.9 million. This was below analysts' expectations for $59.28 million. And it was 27% lower from the $70.1 million the company recorded in the same quarter in 2022.  
The bottom line also disappointed with American Outdoor Brands posting non-GAAP net income of $1.7 million which works out to 13 cents per share. That was ten cents lower than analysts expected and 75% lower than the 52 cents per share the company posted in the same quarter in 2022.  
Reaching a Niche Consumer 
American Outdoor Brands is an industry-leading provider of outdoor products and accessories geared towards rugged outdoor enthusiasts. One of the bullish features of the company is that it is home to a portfolio of direct-to-consumer (DTC) brands. This business unit grew 37% year-over-year (YOY) growth. 
The company considers sales of these brands an important gauge in understanding how well consumers are identifying with its brands. Management remarked that "those sales are not typically impacted by retailers' inventory levels or limited open-to-buy dollars." 
Is the Company at an Inflection Point? 
Investors need to make their own decisions about what companies say in an earnings report. In the case of American Outdoor Brands it's clear that sales are up from the levels they were when the company first went public. That being said, sales are also down sharply on a YOY basis. And so are earnings? 
But with the stock trading below $10 a share, it's fair to ask if the stock is oversold? And that comes down to the consumer. The latest jobs number shows that companies continue to hire even as inflation remains entrenched.  
Data shows that credit usage is uncomfortably high and savings are dwindling. Plus, consumer continue to show a demonstrable shift between spending on experiences like travel and away from spending on stuff.  
However, American Outdoor Brands lives at the intersection of consumer experiences (like travel and camping) and stuff (the gear and other equipment needed for those activities). At the same time, some of these purchases are not necessary on an annual basis.  
AOUT stock is essentially flat in 2023 and with no significant catalysts in the immediate future, I see more of the same for the stock going forward. It may be worth putting on your shopping list, but it doesn't look like a strong buy at this point.