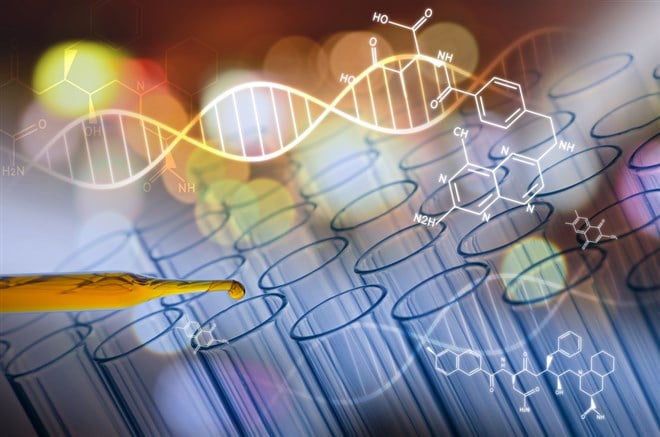 The biotech industry has stood out in recent months, with Immunocore Holdings PLC (NASDAQ: IMCR) among the group's top price performers.
The industry is home to some large-cap heavyweights, including Amgen Inc. (NASDAQ: AMGN), Gilead Sciences Inc. (NASDAQ: GILD), Regeneron Pharmaceuticals Inc. (NASDAQ: REGN), Vertex Pharmaceuticals Inc. (NASDAQ: VRTX), and Moderna Inc. (NASDAQ: MRNA), among others. 
But less well-known companies, such as Exact Sciences Corp. (NASDAQ: EXAS), a top holding in Cathie Woods' Ark Innovation ETF (NYSEARCA: ARKK), along with numerous small caps, have been notching strong rallies. 
U.K.-based Immunocore develops immunotherapies to treat cancer and infectious and autoimmune diseases. 
Its sole product currently on the market is Kimmtrak, a treatment for melanoma. However, Immunocore has six other potential drugs in its pipeline, drawing from the same technologies underpinning Kimmtrack. 
Developing More Treatments Using Existing Platform 
In addition to that compound, the biotech is working on six treatments using the same technology, known as T-cell receptor therapy. With the new products in the pipeline, the company aims to treat other forms of cancer, autoimmune diseases, and infectious diseases, such as hepatitis.
The company reports its fourth quarter on March 2 ahead of the market opening. Wall Street is eyeing a loss of $0.03 per share on revenue of $38.68 million. That would be a year-over-year revenue increase of 335%. 
In its most recent earnings report, the company said total net product and net pre-product revenue from the sale of Kimmtrack and tebentafusp, its chemical name, was $40.4 million in the three months ending September 30, 2022. The company also had $5.451 million in collaboration revenue from discovery partnerships with Genentech, Eli Lilly and Company (NYSE: LLY), and GSK PLC (NYSE: GSK) to develop new cancer therapies Immunocore's technology platform. 
Its total revenue of $45,871 in the most recent quarter was a 476% year-over-year increase. That stands to reason, as Kimmtrak only received FDA approval in January 2022. Revenue ramped up in the quarter ending in March 2022 and grew at triple-digit rates in the past three quarters. 
The company swung to profitability in the most recent quarter, earning $0.13 per share. 
MarketBeat earnings data for Immucore show the company significantly topped earnings and sales views in the past three quarters. 
For the full year of 2022, Immunocore is expected to report a loss of $0.40 per share, narrowed from the 2021 loss of $4.13 per share. That loss is expected to remain at $0.40 a share this year. 
Immunocore has posted strong, market-beating gains in the past year. The stock is up 163.05% on a one-year basis. It's up 16.01% in the past month and 12.06% in the past three months. 
Tracked By Nasdaq Biotech Index
The stock is not a component of any major indexes, but it's part of the Nasdaq Biotechnology Index, as tracked by the Invesco Nasdaq Biotechnology ETF (NYSEARCA: IBBQ). It only comprises 0.15% of fund assets, but it never hurts to be part of an index. That means ETFs tracking the index have to buy enough of the stock's shares to maintain balance.
The buyers are clearly in charge. According to MarketBeat institutional investor data for Immunocore, in the past 12 months, 43 institutional buyers accounted for inflows of $179.00 million. 19 institutional sellers accounted for outflows of $36.34 million during that time.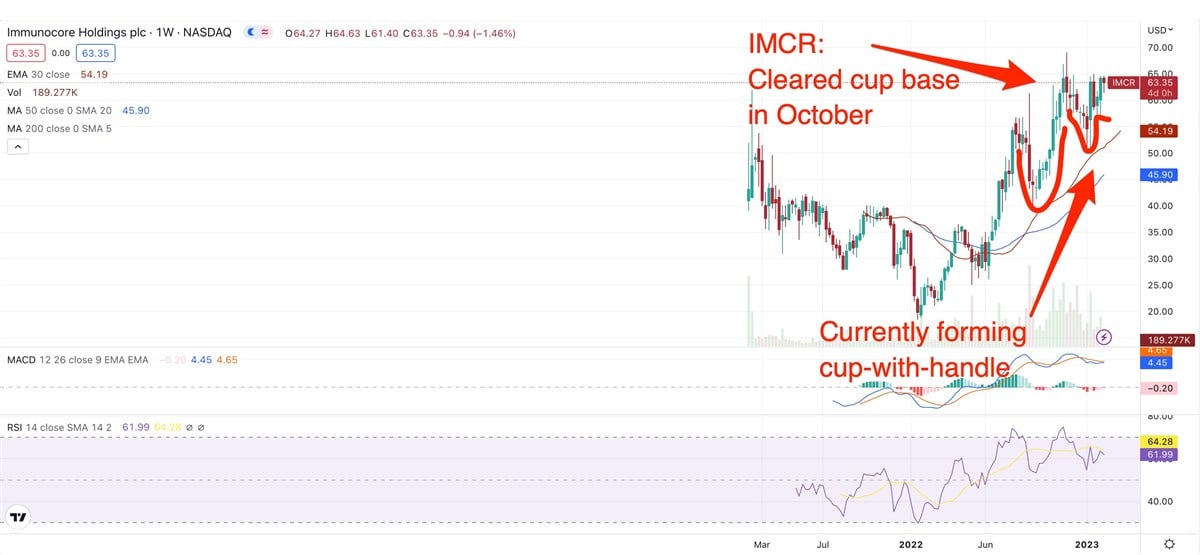 The stock broke out of a cup-shaped base with a buy point above $61.32 in late October, then rallied to a high of $69.06 on November 18 before retreating into a new consolidation. The current base is taking a cup-with-handle shape with a potential buy point just above $65. It's hit resistance between $64 and $65 in the past three sessions. 
Although Immunocore is not yet profitable, the institutional ownership data and recent uptrends signal that the stock has the potential to rise further. Analysts have a price target of $79.13, representing an upside of 25.18%. Analysts have a "buy" rating on the stock.