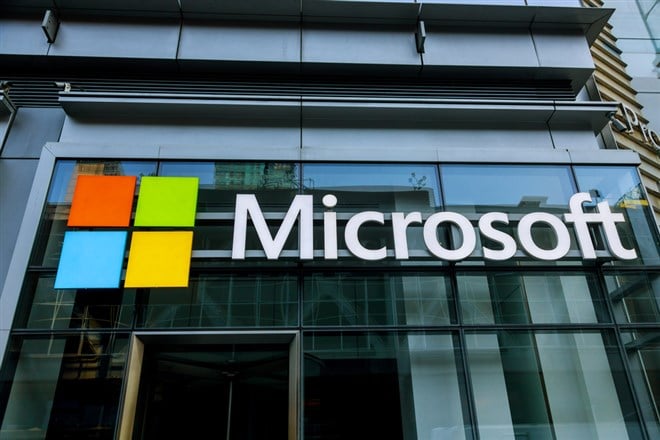 If you're still thinking of Microsoft Corporation (NASDAQ: MSFT) as a sleepy maker of productivity tools, then its massive forays into the world of artificial intelligence may surprise you. 
More of its product offerings incorporate AI solutions as the company aims to grow its capabilities in search, enterprise and productivity, and healthcare, to name just a few areas. 
The company has been making headlines recently as it rolls out its Teams Premium service with features supported by OpenAI's GPT-3.5 AI language model. The new features include an "intelligent recap" automatically generating tasks, notes, meeting highlights, and other functions. 
Microsoft is promoting the intelligent recap as the biggest benefit of the new rollout, as it's hoping to attract customers to pay a $ 7-a-month introductory rate, which increases to $10 a month in June. 
Hasten Speed Of Commercialization 
In January, Microsoft closed on a multi-billion dollar investment in OpenAI, which developed the much-publicized ChatGPT. Microsoft has been nibbling at OpenAI, with previous investments in 2019 and 2021, with the hope of commercializing the technologies and speeding up the pace of research and development. 
Many analysts believe Microsoft will use the OpenAI partnership to breathe new life into its also-ran search engine Bing, with the hope of nabbing some market share from Alphabet Inc. (NASDAQ: GOOGL). 
As huge as that would be for Microsoft's search business, it plans to introduce AI technologies throughout its product lines. For example, in January, the company said it might add ChatGPT technology to its Microsoft 365 software suite, including widely used products Word, PowerPoint and Outlook. 
De Facto Corporate Standard
Although Apple Inc. (NASDAQ: AAPL) has made significant inroads among enterprise customers, Microsoft 365 products are still the de-facto standard in corporate settings. That means vast numbers of users would have exposure to the ChatGPT features, which may be used to create text with a single prompt and allow users to perform tasks faster and more accurately. 
Some analysts believe Microsoft is inching toward an outright acquisition of OpenAI.
Also in January, healthcare AI company Paige announced a partnership with Microsoft 
to develop and deliver clinical applications and biomarkers to advance cancer diagnoses and patient care. In its announcement, Paige said, "Microsoft will also make a strategic investment in Paige to accelerate the development and deployment of life-saving AI diagnostics."
That may also hint at an eventual outright acquisition of the privately held Paige. 
Paige will use Microsoft Azure as the cloud provider for its Paige Platform, which powers a lab's digital pathology workflow. Paige is becoming a  Microsoft Cloud for Healthcare partner, which expands Microsoft's healthcare offerings.  
Rapidly Expanding Healthcare Capabilities
Microsoft has been expanding its capabilities in the healthcare field, with an emphasis on integrating AI applications.
 In March 2022, it completed the acquisition of Nuance, a speech-recognition software. In particular, Microsoft was focused on integrating Nuance into its  Microsoft Cloud for Healthcare suite, which was introduced in 2020.
Nuance's healthcare-specific products include the Dragon Ambient eXperience, Dragon Medical One, and PowerScribe One. In its release announcing the Nuance acquisition, Microsoft said, "Nuance's solutions work seamlessly with core healthcare systems, including longstanding relationships with Electronic Health Records (EHRs), to alleviate the burden of clinical documentation and empower providers to deliver better patient experiences."
Microsoft's chart shows the stock has been in rally mode this year, advancing 5.39% in 2023. Shares are still well below their November high of $349.67 but have notched upside gains in the past three weeks.
In January, the company got negative attention when it announced that it would lay off 10,000 employees. It also reported that revenue for its Azure cloud-computing unit was decelerating. However, the company is taking steps to expand its business in new directions that could make it an attractive investment candidate for those seeking more stable growth and a small dividend yield. 
Microsoft has increased its dividend in the past 20 years, landing it a spot on MarketBeat's dividend achievers list.