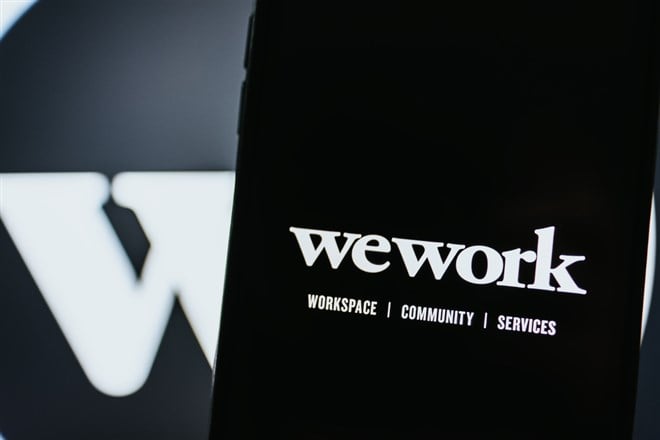 Flexible workspace company WeWork, Inc. (NYSE: WE) went public through a reverse merger with a special purpose acquisition company (SPAC) called BowX Acquisition Corp in September 2021. The company commits to long-term leases with building owners and undertakes extensive buildout and modernization to create contemporary and engaging full-service office environments.
It then subleases the workspaces to companies and individuals. The concept and design were exceptional, but the company overleveraged itself, burned through cash, grew massive debt, and was susceptible to rising interest rates and economic downturns, which came hard during the pandemic.
Fast Rise and Even Faster Drop
The company faced many controversies with its former CEO and founder Adam Neuman's bizarre cult-like leadership style. His double-dealing to himself buying buildings and leasing them back to the company and overall financial mismanagement led to its original IPO in 2018 being pulled. Valuation crumbled, and investor Softbank got hit. Eventually, Neuman was ousted, and WeWork had a clean(er) slate going into the reverse merger.
They compete with flexible workspace giant IWG Plc (OTCMKTS: IWGFF), formerly Regus, and commercial property managers CBRE Group Inc. (NYSE: CBRE) and Jones Lang LaSalle Inc. (NYSE: JLL). Their biggest competitor may be Zoom Video Communications Inc. (NYSE: ZM) which exploded in adoption during the pandemic for enabling remote engagements during lockdowns.
From SPAC to Splat
Shares peaked at $14.97 before spending the next 14 months selling off to a low of $1.02 in December 2022. The pandemic bolstered remote work and the elastic office. Return to the office mandates has faced blowback from workers in the tight labor market.
The bears have been on the right side of this trade, but a 39.71% short interest could set the stage for a short squeeze on any good news. Conversely, bears are leaning on the potential for Chapter 11 protection to restructure its massive lease commitments. The company closed 40 more underperforming U.S. locations in November 2022.
BTIG Top Pick of 2023 List
On Jan. 3, 2023, BTIG analyst Thomas Catherwood added WeWork to his Top Pick for 2023 first-half list. He noted that WeWork was a benefactor of the supercycle in the flexible workspace, further accelerated by the pandemic.
He noted how WeWork accommodates businesses that don't have the scale to build out their own offices, desire to be in a more engaging setting, and want a turnkey solution without having to deal with back office infrastructure, which includes printing, IT, snacks, amenities, and culture, and don't want to be locked into a long-term lease commitment.
He believes WeWork will thrive in a post-pandemic world, "Given this incremental demand, we expect WeWork to inflect into generating positive adjusted EBITDA in 1Q23 and free cash flow from operations in 4Q23 without the need to issue additional equity."
Still Trying to Bottom Out
On Feb. 15, 2023, WeWork reported its Q4 2022 earnings for December 2022. The company reported a non-GAAP earnings-per-share (EPS) loss of $0.59 versus consensus analyst estimates for a $0.46, a $0.13 miss. Net loss was $527 million, including $348 million in non-cash expenses.
Revenues grew 18.1% year-over-year (YoY) to $848 million, beating the $847.34 million consensus analyst estimates. WeWork system-wide portfolio of real estate included 779 locations in 39 countries consisting of 906,000 workstations and 682,000 memberships for 75% occupancy. Membership increased 16% YoY. All Access and On-Demand consolidated memberships grew 56% YoY to 70,000 in the quarter.
WeWork CEO Sandeep Mathrani commented, "Our fourth quarter results demonstrate that we accomplished what we set out to do in fiscal year 2022 by staying focused on reducing expenses, optimizing our portfolio, growing revenue, and increasing occupancy. As a result, we crossed a historic milestone of achieving Adjusted EBITDA profitability in December - a testament to the hard work of our employees and the enduring value of our products."
Bracing for the Slowdown
WeWork gave downside guidance for Q1 2023 for revenues between $830 million to $855 million versus $918.38 million consensus analyst estimates. The 39.71% short interest has the potential for a short squeeze on good news.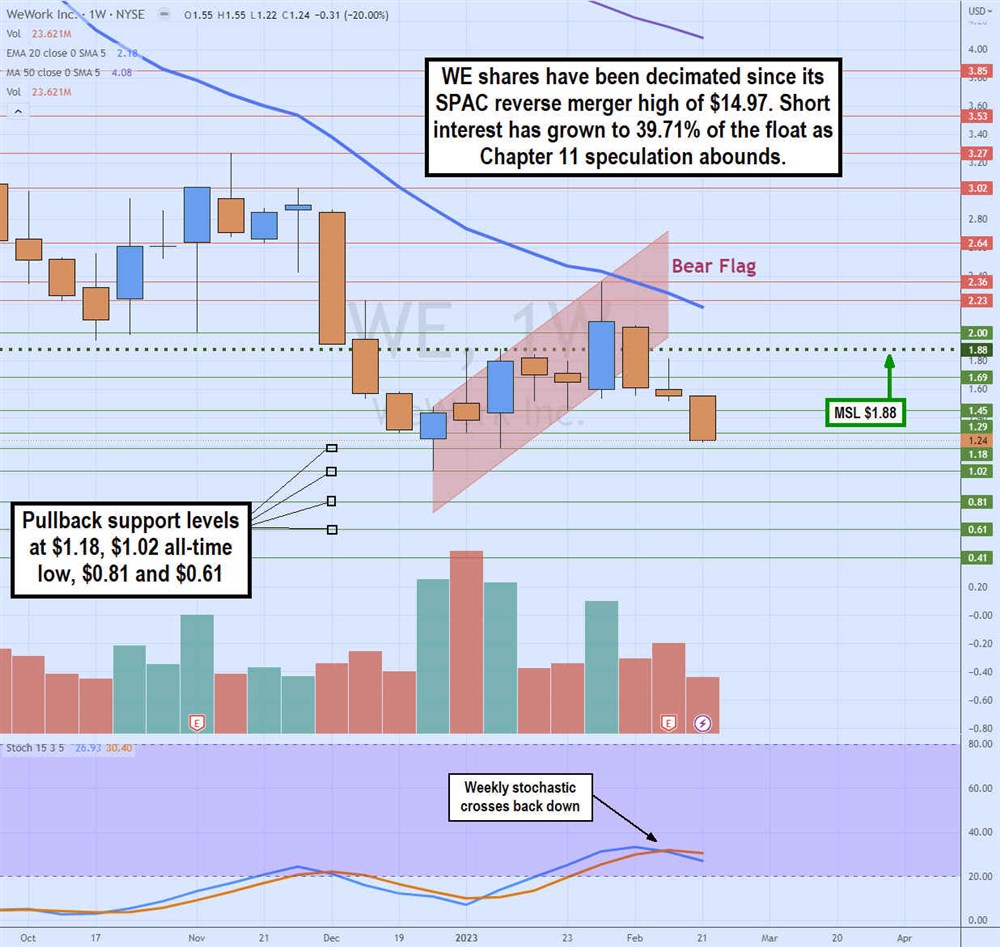 Weekly Bear Flag
The weekly candlestick chart for WE illustrate the bottoming attempt after hitting an all-time low of $1.02 in late December 2022. Share bounced on a weekly market structure low (MSL) breakout through $1.88 to peak at $2.36 by the end of January 2023.
However, the momentum fizzled out, and shares couldn't hold above the MSL trigger, falling back down and forming a bear flag as shares sold off for the next three weeks. The weekly stochastic peaked early, around the 35 bands, and crossed back down.
The weekly 20-period exponential moving average (EMA) resistance continues to fall lower at $2.18, and the 50-period MA falls at $4.08. Pullback support levels are $1.18, $1.02 all-time swing low, $0.81, and $0.61.