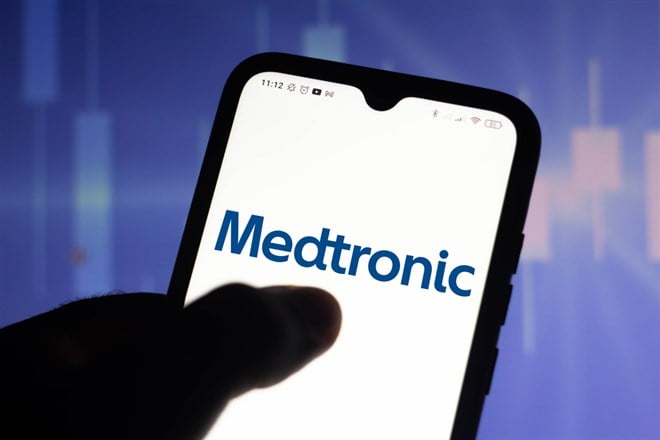 In early February 2023, Medtronic PLC (NYSE: MDT) was found guilty of patent infringement regarding Colibri Heart Valve LLC transcatheter aortic valve replacement system (TAVR). While this is certainly troubling for one of the biggest medical technology manufacturers in the world, it may not significantly derail any momentum they have.
Although analysts have given Medtronic a HOLD rating, this could just be a call to wait for more results before making any major decisions about the stock. 
MDT is Down, but That is Understandable
Yes, share value dropped immediately following the verdict—incrementally dragging share price a few points to $83.64—within a few days.  Analysts seem optimistic, though. For one, the $94.25 price target represents a reasonable–but healthy–12.6% upside. Analysts also believe earnings could see a conservative 3.42% growth, which is in line with the 1.5% earnings beat from the November earnings report. 
That said, the 26.05 Price-to-Earnings ratio is a little on the high side and could quickly make the stock a little more expensive than its worth. It is worth noting that MDT currently pays out a solid $2.72 dividend at a 3.24% yield. On top of that, not only has the MDT dividend grown at a 3-year annualized rate of 7.99%, but they have increased the dividend for 46 consecutive years. For reference, the company was founded in 1949. 
However, the 84.47% dividend payout ratio implies MDT stock could be paying out more dividends than what is considered healthy for a stock. This might be a strategy to encourage more investors since the stock has struggled after peaking in September 2021 at a historical high of around $135. So while most signs point to enough stability to get through this period, it may be wise to exercise caution until more definitive data is available.  
MDT is Pretty Good at Bouncing Back
This is particularly true since the Dublin, Ireland-based firm has been through something like this. In 2020, the share value plummeted from around $121 in late January to around $74 in late March. And what's interesting about this is that this was around the time that Colibri first accused Medtronic—specifically, its CoreValve subsidiary—of the TAVR device patent violation.
The Colibri TAVR patent suit also alleges the technology had been sold under Medtronic's Evolut brand name as well. At the time, Medtronic argued that these patent claims were not valid. 
But this first Colibri-related dip was short–lived, as MDT had been on a tremendous— and long-awaited —upward swing.  This is what led to that September 7, 2021, historical high of $135.37.  The much-needed rebound came only months after bottoming out at around $76 through November and December 2022. 
Indeed this contributed to the stock dragging -18.74% since early last year, but share value is up slightly over the last quarter and more than +7.6% since the top of the year.  That is, until the release of the Colibri patent update, of course. 
The Impact of the Colibri TAVR Patent Ruling
The early February ruling not only puts a cap on three years of litigation for Medtronic but could define MDT's status moving forward.  Ruling in Colibri's favor, the jury found that determined that Medtronic failed to disprove the validity of Colibri's claims; thus, they had, in fact, "actively induced infringement" of three patent claims. This led the jury to agree Medtronic should pay compensatory damages of $106,489,000 for the patent violation.
Of course, Medtronic disagrees with this ruling and "will continue to vigorously defend" it's business and reputation. This will start, of course, at the appellate level, as described in a company statement.  "In the meantime," the statement continues, "Colibi's patent has no impact on ongoing operations, as the patent expired in January."   
The patent expiration is an interesting detail that sheds light on the stock's current Hold rating.  While a $106.5 million ruling is certainly a large amount of money, the patent expiration should mean this is the end of the issue.  This leaves Medtronic free to pursue whatever avenues the company needs to overcome this obstacle.
After all, the data suggests MDT tends to be a decent investment as the only indicators of weakness came after the initial Colibri accusation and, now, the ruling.  
So while the stock has easily seen better days, it has about as much potential as ever to reach new highs. The data suggest that MDT is persistent, so mind the HOLD rating for now, but keep an eye on it.  We could potentially see more good things from them before too long.