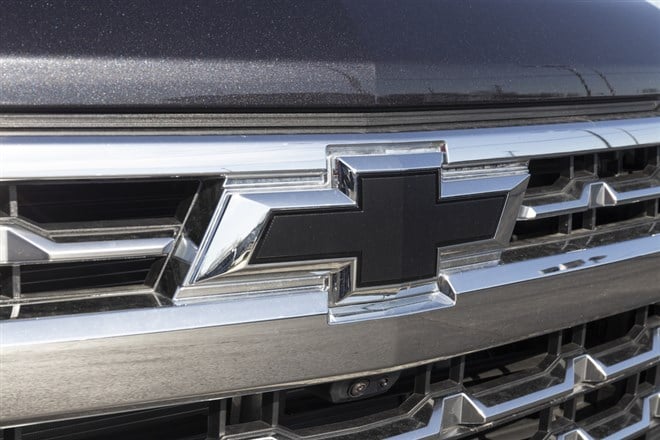 General Motors Co. (NYSE: GM) is up over 7% on the day it handily beat expectations on the top and bottom lines. The automaker is seeing the supply chain loosening, boosting sales and profits in the quarter. Investors are also cheering the $2 billion in cost cuts announced by GM on the earnings call.  
And the company also said it has no plans, at this time, to lower the price of its electric vehicle (EV) offerings. The company has plans to introduce several new EV models this year, including an electrified version of its Chevrolet Blazer, which will start at around $36,000. 
As this latest market rally keeps picking up steam, some investors may start dusting off their watchlists. If you're one of those investors, let's consider whether GM stock should be a stock to consider.  
Charging Ahead with EV Plans 
General Motors plans to manufacture 400,000 electric vehicles from 2022 through the first half of next year. The company sold 2.27 million cars in 2022. This means EVs will still be just a fraction of the company's sales.  
And the company says it expects sales volume to grow 5% to 10% in 2023. But the company declined to supply a revenue forecast except to say it would likely be lower than in 2022. With that said, the company acknowledged that incentives would offset price increases.  
What's more intriguing as a long-term reason to own GE stock is the company's $650 million equity investment in a lithium mine and its continued buildout of a charging infrastructure.  
Will the Third Time be the Charm?  
With this recent run-up, GM stock is nearing a level of resistance that it has twice failed to break through in the last month. But with momentum building, this third run may be enough to push it higher. If it does, the stage could be set for a run-up to levels the stock hasn't seen in nine months.  
One key may come from what the analysts say. Two analysts, including JPMorgan Chase & Co. (NYSE:JPM) lowered their price targets for GM stock in the week before earnings. That trajectory could change. Analysts typically wait until after they've heard from the company leadership.  
But there are reasons to believe it could still be a bumpy ride for General Motors and the automotive industry.  
The Economy is Still Weakening 
Consumers had money to spend in 2020 and part of 2021 and no cars to buy. Now inventory is improving, but things are getting tighter for consumers. There's evidence that the Federal Reserve's interest rate increases are having the desired effect of reducing consumer demand.  
The pace of interest rate increases is likely to slow, if not stop at some point in 2023. Some analysts believe the Fed will "pivot" late this year and start lowering interest rates. Hoping for that is not an investment strategy.  
Still, if consumers get to a rate-neutral period where they can believe that rates are not going higher, it could spark demand. On the other hand, most industry observers are saying that inventory levels won't be back to pre-pandemic levels until 2024.
GM Stock is One for the Watchlist, but it seems too Early to Buy 
General Motors is taking steps to be a major player in the transition to electric vehicles. But to buy GM stock right now is to believe that all the economic numbers we're seeing are wrong or will reverse quickly.  
GM stock is one to watch closely. But without evidence of continued sales growth, the stock is not a buy right now.