TACOMA, Wash., Aug. 15, 2023 (GLOBE NEWSWIRE) -- Harbor Custom Development, Inc. (Nasdaq: HCDI, HCDIP, HCDIW, HCDIZ) ("Harbor," "Harbor Custom Homes®," or the "Company"), a real estate company involved in all aspects of the land development cycle, announced it is now leasing its Meadowscape apartments in Olympia, Washington.
Meadowscape is comprised of ten three-story buildings with floorplans that include 450 square foot studios, 728 square foot one-bedroom, one-bathroom, 966 square foot two-bedroom, one-bathroom, and 1,122 square foot two-bedroom, two-bathroom rental units. The community has convenient access to I-5, is located approximately 7 miles from Washington state's capital of Olympia, and is less than 15 miles from Joint Base Lewis-McChord near Lakewood. JBLM is a major U.S. military installation with an active population of nearly 210,000 inhabitants, making it the fourth largest military installment worldwide by population.
The 177-unit complex broke ground in September 2021, and Harbor anticipates the project to be complete in the fourth quarter of 2023. 

Residents can easily access local supermarkets and convenience stores, including Safeway, Costco, and Walmart. Additionally, the community is surrounded by outdoor recreation, including the Puget Sound waterfront, several lakes, ten community parks, Saint Martin's University, and South Puget Sound Community College.
"We are excited to announce the commencement of leasing at our new 177-unit complex, Meadowscape apartments, in Olympia, Washington. Our commitment to quality living continues to resonate with our residents, and we look forward to welcoming more individuals and families into our thriving communities. Meadowscape is our fifth multi-family project to begin leasing, and after selling our smallest project Mills Crossing in June, we look forward to further executing our stated business objectives as it relates to Meadowscape and our other multi-family assets," said Jeff Habersetzer, Interim Chief Executive Officer of Harbor Custom Development, Inc.
The apartments feature luxury finishes, including stainless steel appliances, quartz countertops with tile backsplashes, full-size in-unit washers and dryers, a private patio or balcony, and premium flooring. The two-bedroom units offer walk-in closets. The community includes a recreational building with a flex space for residents to gather, a fitness center, a smart parcel locker system, a community pool, an outdoor barbecue, a children's play area, bike stalls, a dog run, and garages and carports for rent.  
Meadowscape is one of four multi-family projects currently in lease-up Harbor's Western Washington portfolio, including the following:
Pacific Ridge, Tacoma (80 units) - 82% leased.
Wyndstone, Yelm (76 units) – 96% leased.
Belfair View, Belfair (228 units) 48% leased in phase one.
Meadowscape, Olympia (177 units) – Now Leasing.
Meadowscape is located at 7635 3rd Way SE, Olympia, WA 98503. For leasing information, to schedule a tour, or learn about move-in specials, contact the onsite team from Cushman and Wakefield at www.meadowscapeapartments.com or call (253) 579-0787.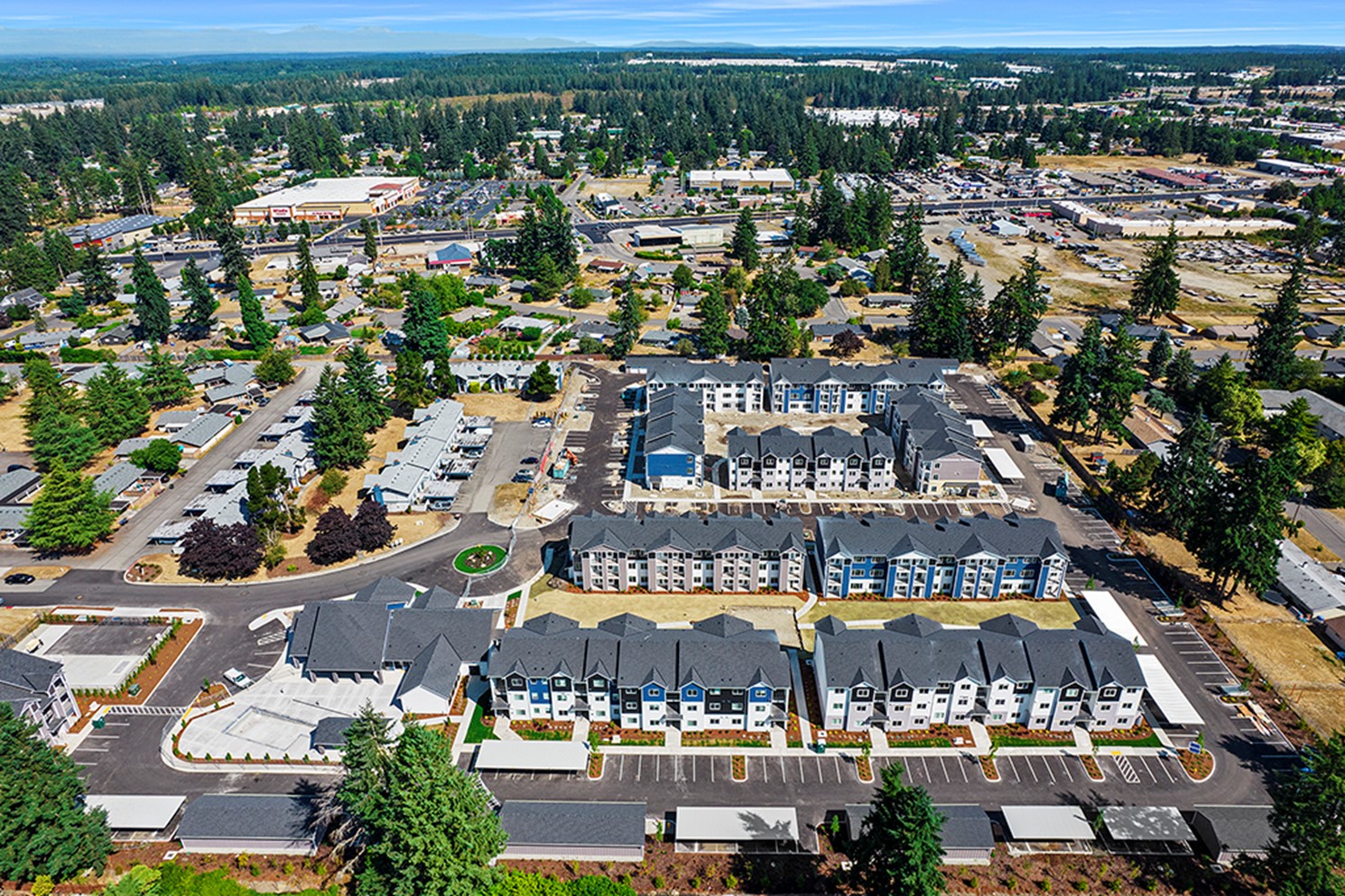 Meadowscape Apartments offers studios to two-bedroom rental units starting at $1,550 monthly
About Harbor Custom Development, Inc.
Harbor Custom Development, Inc., is a real estate development company involved in all aspects of the land development cycle, including land acquisition, entitlements, construction of project infrastructure, home and apartment building, marketing, and sales of various residential projects in Western Washington's Puget Sound region; Sacramento, California; Austin, Texas and Punta Gorda, Florida. As a land developer and builder of apartments, and single-family luxury homes, Harbor Custom Development's business strategy is to acquire and develop land strategically based on an understanding of population growth patterns, entitlement restrictions, infrastructure development, and geo-economic forces. Harbor focuses on acquiring land with scenic views or convenient access to freeways and public transportation to develop and sell residential lots, new home communities, and multi-story apartment properties within a 20 to 60-minute commute of the nation's fastest-growing metro employment corridors.
Forward-Looking Statements
Certain statements in this press release constitute "forward-looking statements" within the meaning of the federal securities laws. Words such as "may," "might," "should," "believe," "expect," "anticipate," "estimate," "continue," "predict," "forecast," "project," "plan," "intend" or similar expressions, or statements regarding intent, belief, or current expectations, are forward-looking statements. These forward-looking statements are based upon current estimates and assumptions. While the Company believes these forward-looking statements are reasonable, undue reliance should not be placed on any such forward-looking statements, which are based on information available to us on the date of this release. These forward-looking statements are subject to various risks and uncertainties, including without limitation those set forth in the Company's filings with the Securities and Exchange Commission. Thus, actual results could be materially different. The Company expressly disclaims any obligation to update or alter statements whether as a result of new information, future events or otherwise, except as required by law.
Investor Relations
IR@harborcustomdev.com
866-744-0974
Attachment