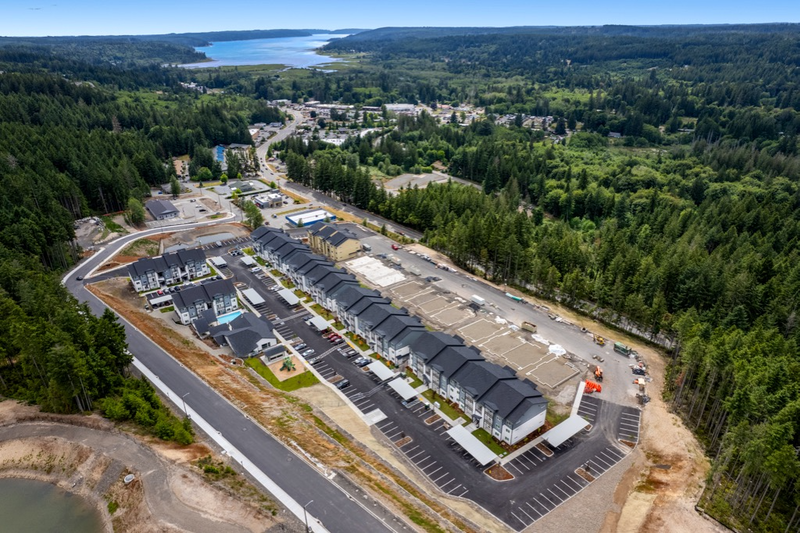 Belfair View Apartments are located at 81 NE Ridge Point Blvd, Belfair, WA 98528
TACOMA, Wash, July 06, 2023 (GLOBE NEWSWIRE) -- Harbor Custom Development, Inc. (Nasdaq: HCDI, HCDIP, HCDIW, HCDIZ) ("Harbor," "Harbor Custom Homes®," or the "Company"), a real estate company involved in all aspects of the land development cycle, today announced it closed on a $19,950,000 loan with Sound Capital to refinance phase one of the 126-unit Belfair View Apartment multi-family project in Belfair, Washington.
"We are pleased to announce the continuation of our lending relationship with Sound Capital. Over the past five years, they have been a trusted partner for our Company, providing financing for numerous communities in Western Washington, as well as projects in our Sacramento and Austin metro markets. We look forward to expanding our relationship in the years ahead," stated Jeff Habersetzer, Chief Operating Officer at Harbor Custom Development, Inc.
"We appreciate the consistent lending opportunities Harbor has offered us over the years. Our company has financed single-family subdivisions, townhome developments, and multi-family construction loans for the Company. We look forward to working with Jeff Habersetzer and the executive team on future projects," stated Johnny Walker, Principal at Sound Capital.
The Belfair View Apartments are located at 81 NE Ridge Point Blvd, Belfair, WA 98528, along Highway SR 3 in Mason County. Units range in size from 724 to 986 square feet, with rent rates from $1,695 to $2,095 a month. The apartments feature quartz countertops, contemporary LVP flooring throughout the kitchen, living spaces, and bathrooms, stainless steel kitchen appliances, in-unit full-size washer and dryer, and vaulted ceilings in the third-floor units of each building. For more information about leasing and move-in specials, visit HarborCustomDev.com or call (253) 392-4525.  
About Sound Capital Loans, LLC
Founded in 2007, Sound Capital (formerly Sound Equity) has raised hundreds of millions of dollars in investment capital to fund loans throughout various West Coast and Southern U.S. markets. Today, they lend tens of millions per month, financing all types of new construction projects, including bridge, finished lot, ground-up, and construction-completion loans. Sound Capital's vast knowledge of new construction lending provides flexibility for a customized loan structure based on a specific project's characteristics. With lending standards prioritizing experience and track record, high-volume borrowers have access to rates and terms that are among the industry's best. For more information, visit www.soundcapital.com.
About Harbor Custom Development, Inc.
Harbor Custom Development, Inc. is a real estate development company involved in all aspects of the land development cycle, including land acquisition, entitlements, construction of project infrastructure, home and apartment building, marketing, and sales of various residential projects in Western Washington's Puget Sound region; Sacramento, California; Austin, Texas and Punta Gorda, Florida. As a land developer and builder of apartments, and single-family luxury homes, Harbor Custom Development's business strategy is to acquire and develop land strategically based on an understanding of population growth patterns, entitlement restrictions, infrastructure development, and geo-economic forces. Harbor focuses on acquiring land with scenic views or convenient access to freeways and public transportation to develop and sell residential lots, new home communities, and multi-story apartment properties within a 20 to 60-minute commute of the nation's fastest-growing metro employment corridors.
Forward-Looking Statements
Certain statements in this press release constitute "forward-looking statements" within the meaning of the federal securities laws. Words such as "may," "might," "should," "believe," "expect," "anticipate," "estimate," "continue," "predict," "forecast," "project," "plan," "intend" or similar expressions, or statements regarding intent, belief, or current expectations, are forward-looking statements. These forward-looking statements are based upon current estimates and assumptions. While the Company believes these forward-looking statements are reasonable, undue reliance should not be placed on any such forward-looking statements, which are based on information available to us on the date of this release. These forward-looking statements are subject to various risks and uncertainties, including without limitation those set forth in the Company's filings with the Securities and Exchange Commission. Thus, actual results could be materially different. The Company expressly disclaims any obligation to update or alter statements whether as a result of new information, future events or otherwise, except as required by law.
Investor Relations
Hanover International
IR@harborcustomdev.com
866-744-0974
Attachment