Cypress Hill, Action Bronson, Joe Russo's Almost Dead (full two-set show), Lettuce, Stephen Marley, Karina Rykman, and DJs Papa G and Mitch Please are scheduled to headline this inaugural two-day event

Pre-sale ticket registration begins with lineup announcement on Wednesday, June 7 at 12:00 pm CST at www.themiracleconcert.com
Sign up for special announcements, guidelines on cannabis possession and consumption, plus other news from The Miracle in Mundelein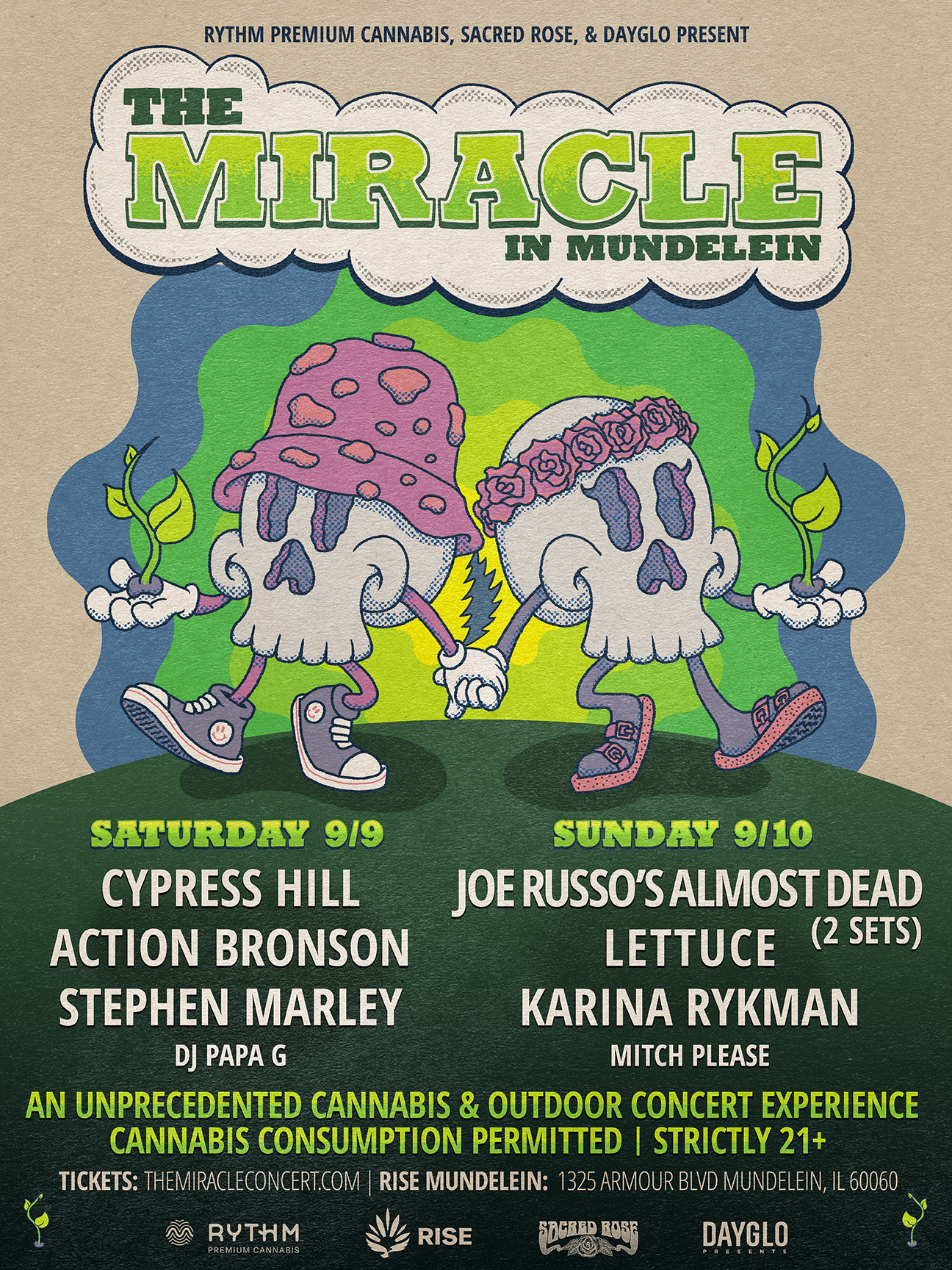 CHICAGO and VANCOUVER, British Columbia, June 07, 2023 (GLOBE NEWSWIRE) -- Green Thumb Industries Inc. ("Green Thumb") (CSE: GTII) (OTCQX: GTBIF), a national cannabis company and owner of RISE Dispensaries and RYTHM Premium Cannabis, today announced The Miracle in Mundelein, a two-day event that merges the worlds of cannabis and music. Presented by RYTHM Premium Cannabis, Sacred Rose and Dayglo, The Miracle in Mundelein is an unprecedented outdoor concert with legal cannabis consumption set to take place on September 9th and 10th outside of Chicago.
The Miracle is the first concert in Illinois to openly welcome onsite cannabis consumption. The event aims to unite people and foster an environment of inclusivity and camaraderie around the shared love of music and cannabis. Music will span several genres, from the electrifying beats of hip-hop and reggae on day one to the timeless melodies of the Grateful Dead and infectious rhythms of New Orleans funk on day two. The incredible lineup of featured artists includes: Cypress Hill, Action Bronson, Joe Russo's Almost Dead, Lettuce, Stephen Marley, Karina Rykman, and DJs Papa G and Mitch Please.
In addition to the captivating music, the event will offer concert-goers unique experiences like a dab bar, cannabis beverage garden, joint rolling and chilled bongs.
"It is no surprise there is a rich and deep history between music and cannabis. We believe the two together can create more connectivity, positivity and well-being," said Ben Kovler, Founder, Chairman and Chief Executive Officer of Green Thumb Industries. "The Miracle is our way of celebrating this unique intersection—with amazing music, high-quality weed, and a welcoming community. We are excited to put on an incredible show while providing a safe, legal space for cannabis consumption for everyone 21 and over."
Peter Shapiro, Founder of Dayglo Presents, expressed his excitement, stating, "Over the years, I've had the pleasure of producing many live music events, but this is truly a first. The Miracle in Mundelein is more than just a concert, it is a testament to the relationship that music and legal cannabis can have when brought together in the right way. We named the event, The Miracle, because it really is remarkable that we can now bring cannabis and music together in 2023, and it is permitted and legal. Our goal is to create a new type of event, which showcases the uplifting impact of cannabis in a legal environment, while also supporting and growing a real community."
Michael Berg, Founder of Sacred Rose Festival, said, "After decades of providing live music experiences, and as a long-time advocate for the medical benefits and recreational adult use of cannabis, contributing to this event is an honor and a special moment for the collective community in Illinois and the Chicagoland area. Growing up and attending high school only one town over and seeing how far things have evolved over the past three decades, truly is a miracle that has led to us being able to create such a unique and first-of-its-kind concert. Our extended team has worked closely with the village of Mundelein to ensure The Miracle is equal parts safe and fun for all attendees to celebrate the culture with performances from artists who align with the lifestyle."
The Miracle will take place across the street from RISE Dispensary Mundelein, located at 1325 Armour Blvd, Mundelein, IL 60060. The event is strictly for individuals aged 21 and above, with cannabis purchase available in-store at RISE Dispensary Mundelein and consumption permitted on the concert grounds.
Pre-sale registration for tickets is now open at www.themiracleconcert.com, offering exclusive access to secure a spot at The Miracle since tickets are limited. Pre-sale begins Thursday, June 8th at 12:00 pm CST. General admission and VIP tickets will be available starting Friday, June 9th at 12:00 pm CST. Ticket prices inclusive of taxes and fees are $69 for single day general admission, $129 for two-day general admission, $178 for single day VIP pass, and $346 for two-day VIP pass.
THE MIRACLE IN MUNDELEIN LINEUP 
Cypress Hill
Action Bronson
Joe Russo's Almost Dead
Lettuce
Stephen Marley
Karina Rykman
DJ Papa G
DJ Mitch Please
Saturday, September 9
Cypress Hill
Action Bronson
Stephen Marley
DJ Papa G
Sunday, September 10
Joe Russo's Almost Dead
Lettuce
Karina Rykman
DJ Mitch Please
About Green Thumb Industries
Green Thumb Industries Inc. ("Green Thumb"), a national cannabis consumer packaged goods company and retailer, promotes well-being through the power of cannabis while giving back to the communities in which it serves. Green Thumb manufactures and distributes a portfolio of branded cannabis products including &Shine, Beboe, Dogwalkers, Doctor Solomon's, Good Green, incredibles and RYTHM. The company also owns and operates rapidly growing national retail cannabis stores called RISE. Headquartered in Chicago, Illinois, Green Thumb has 18 manufacturing facilities, 80 open retail locations and operations across 15 U.S. markets. Established in 2014, Green Thumb employs approximately 4,000 people and serves millions of patients and customers each year. The company was named to Crain's Chicago Business Fast 50 list in 2021 and 2022 and a Best Workplace by MG Retailer magazine in 2018, 2019 and 2021. More information is available at www.gtigrows.com.
Investor Contact:
Andy Grossman
EVP, Capital Markets & Investor Relations
InvestorRelations@gtigrows.com
310-622-8257
Media Contact:
MATTIO Communications
GTI@mattio.com
A photo accompanying this announcement is available at https://www.globenewswire.com/NewsRoom/AttachmentNg/987b82a9-1a27-4b23-bd23-8f2e4ba04667