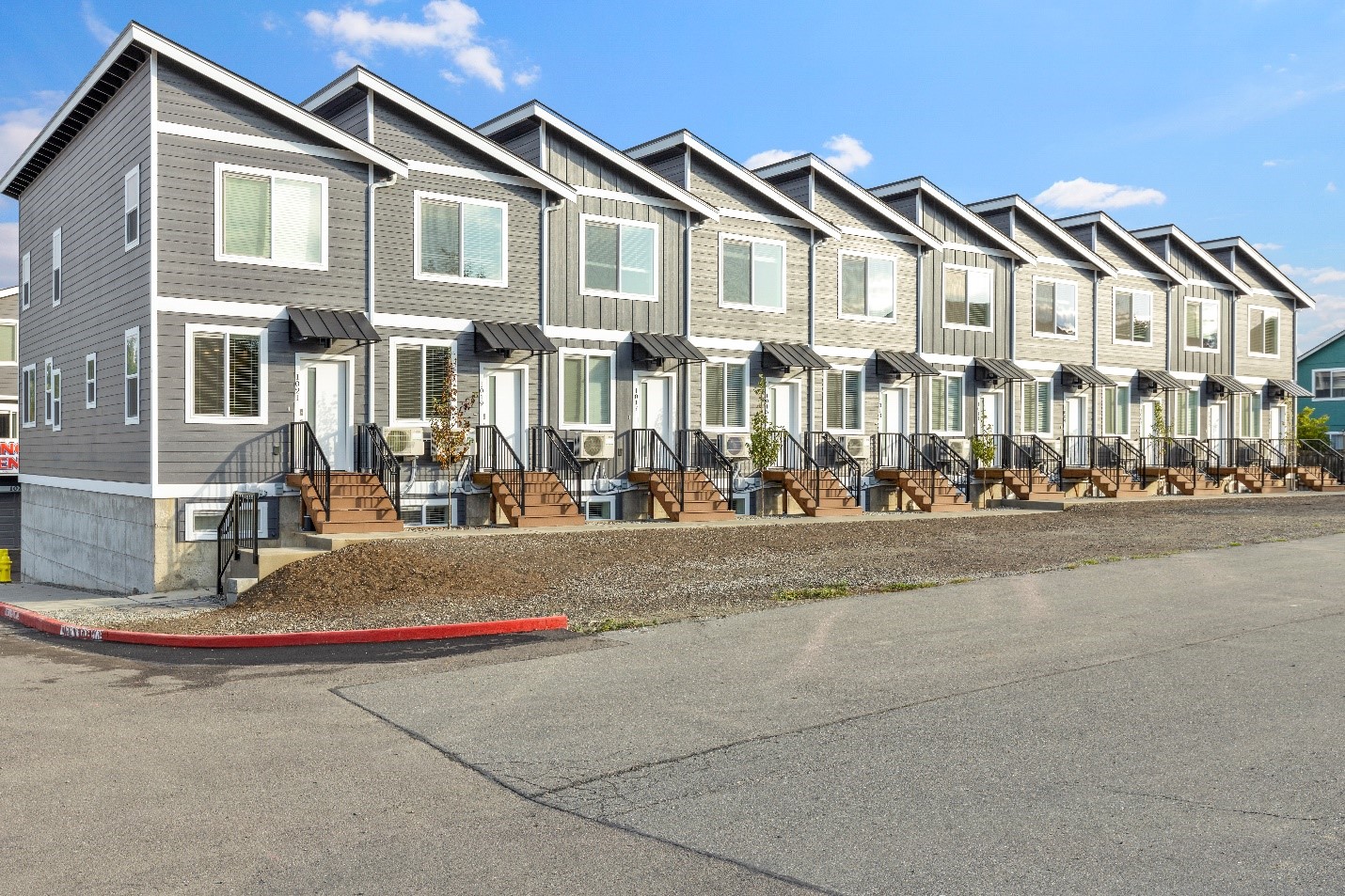 Mills Crossing will provide affordable housing to Kitsap County area residents
TACOMA, Wash, June 20, 2023 (GLOBE NEWSWIRE) -- Harbor Custom Development, Inc. (Nasdaq: HCDI, HCDIP, HCDIW, HCDIZ) ("Harbor," "Harbor Custom Homes®," or the "Company"), a real estate company involved in all aspects of the land development cycle, today announced it has closed on the sale of the Mills Crossing townhomes in Bremerton, Washington for $14,250,000 to Kitsap Community Resources.
"The sale of our first of six multi-family projects is a milestone for the Company and a testament to the team's hard work and dedication. We are pleased to partner with Kitsap Community Resources on the sale of Mills Crossing, which provides families in Kitsap County meaningful access to affordable housing," stated Sterling Griffin, President and CEO of Harbor Custom Development, Inc.
Since 1965, Kitsap Community Resources has served as a community action agency striving to end poverty. The KCR Housing division serves the needs of families and individuals in Kitsap County who are homeless or at risk of becoming homeless. The company provides services to help prevent eviction, find affordable housing options, and help stabilize families in crisis situations.
"Kitsap Community Resources is proud to work with Harbor Custom Development, Inc. on this important project. Together, in collaboration with many community partners in Kitsap County, this represents a small piece of a much larger puzzle to combat the existing housing crisis within our community and across the region. By providing safe and affordable housing, the Mills Crossing townhome project will benefit vulnerable families and the city as a whole," stated Kitsap Community Resources Executive Director, Anthony Ives.
Mills Crossing is a 36-unit townhome project located at 1003 Little Haven Lane, Bremerton, Washington, one block from the Kitsap Transit Center on Highway 303 in East Bremerton. Tenants have convenient access to the downtown Bremerton amenities, including local shopping, farmer's markets, waterfront parks, community restaurants, Olympic College, and convenient ferry service to Seattle. The two-bedroom, two-bathroom townhome rentals average 1,425 square feet.
About Kitsap Community Resources
KCR is a dynamic partner in the Kitsap County Community. KCR touches ten percent of the 277,000 residents of Kitsap County's population through a variety of programs. The organization's services and programs include Housing and Homelessness services; Veteran's assistance; WIC (Women Infant Children) nutritional food program; Early Head Start and Head Start; WIOA (Workforce Innovation Opportunity Act); BEST (Business Education Support Training); GED instruction and testing; job training and placement services; food services for Meals on Wheels Kitsap and early learning centers; Weatherization; Energy assistance; and other community support services. KCR operates 11 sites throughout Kitsap County. For more information about KCR, please visit www.kcr.org for all KCR services and locations.
About Harbor Custom Development, Inc.
Harbor Custom Development, Inc. is a real estate development company involved in all aspects of the land development cycle, including land acquisition, entitlements, construction of project infrastructure, home and apartment building, marketing, and sales of various residential projects in Western Washington's Puget Sound region; Sacramento, California; Austin, Texas and Punta Gorda, Florida. As a land developer and builder of apartments, and single-family luxury homes, Harbor Custom Development's business strategy is to acquire and develop land strategically based on an understanding of population growth patterns, entitlement restrictions, infrastructure development, and geo-economic forces. Harbor focuses on acquiring land with scenic views or convenient access to freeways and public transportation to develop and sell residential lots, new home communities, and multi-story apartment properties within a 20 to 60-minute commute of the nation's fastest-growing metro employment corridors.
Forward-Looking Statements
Certain statements in this press release constitute "forward-looking statements" within the meaning of the federal securities laws. Words such as "may," "might," "should," "believe," "expect," "anticipate," "estimate," "continue," "predict," "forecast," "project," "plan," "intend" or similar expressions, or statements regarding intent, belief, or current expectations, are forward-looking statements. These forward-looking statements are based upon current estimates and assumptions. While the Company believes these forward-looking statements are reasonable, undue reliance should not be placed on any such forward-looking statements, which are based on information available to us on the date of this release. These forward-looking statements are subject to various risks and uncertainties, including without limitation those set forth in the Company's filings with the Securities and Exchange Commission. Thus, actual results could be materially different. The Company expressly disclaims any obligation to update or alter statements whether as a result of new information, future events or otherwise, except as required by law.
Investor Relations
Hanover International
IR@harborcustomdev.com
866-744-0974
Attachment