NEW YORK, DUBLIN and MILAN, April 05, 2023 (GLOBE NEWSWIRE) -- Brera Holdings PLC ("Brera Holdings" or the "Company" and Nasdaq: BREA) announced the launch of its Media Division, focused on the production and distribution of proprietary multi-platform online and offline content, along with engaging, branded live events that involve public figures linked to the club.
Brera FC Media Division content will include live streaming and highlights of Brera-branded and -owned club matches, exclusive web series, limited edition books through an internal print publishing house, podcasts, eSports matches, digital artwork and upcoming digital assets, including NFTs.
To date over 240 pieces of content have been produced and distributed through YouTube's Brera FC Channel.
In today's football era, leading clubs and their associated brands have transitioned into media and entertainment companies. Brera FC is a club with a unique football story of social impact soccer: through its Media Division it intends to exploit new opportunities for fan engagement with primarily digital products and channels, which will attempt to forecast and evaluate new digital trends in the sports industry.
"The opening of the Brera FC Media Division allows numerous activities of the club to be conveyed in engaging, digital storytelling. The global vision of Brera Holdings, with what we expect to be an increasing number of worldwide clubs in our portfolio, provides continuous content, brand and digital asset ideas and initiatives to be developed," said Sergio Scalpelli, CEO of Brera Holdings.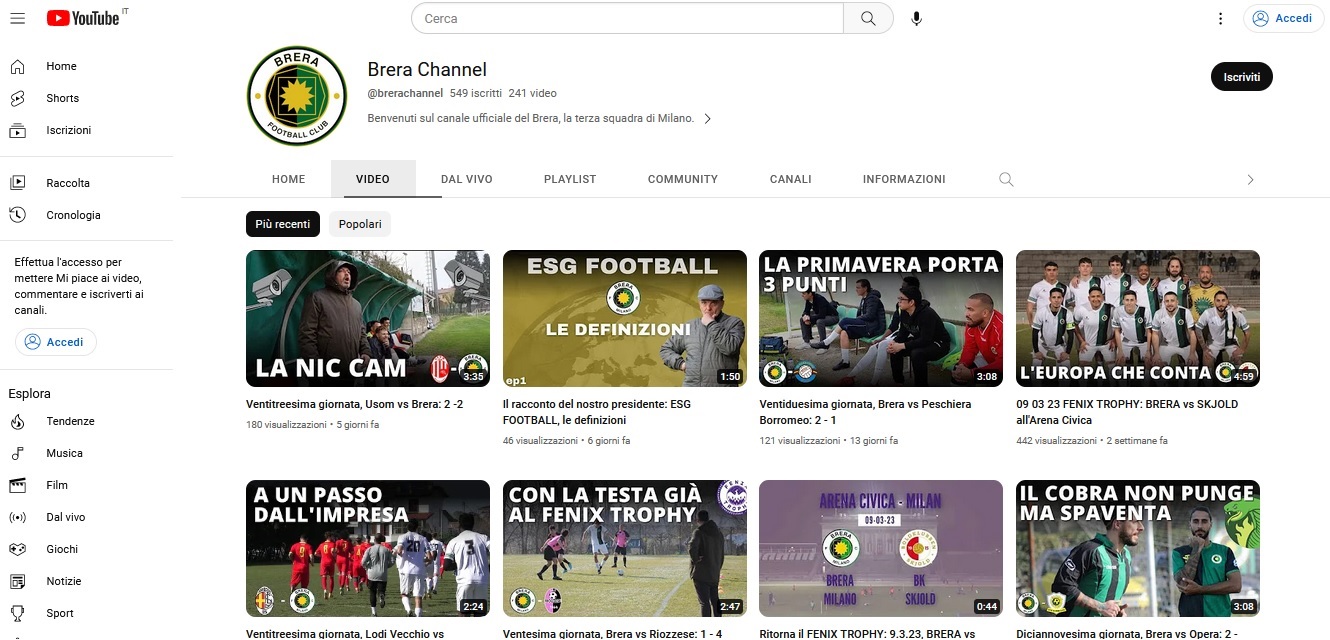 Brera Channel on YouTube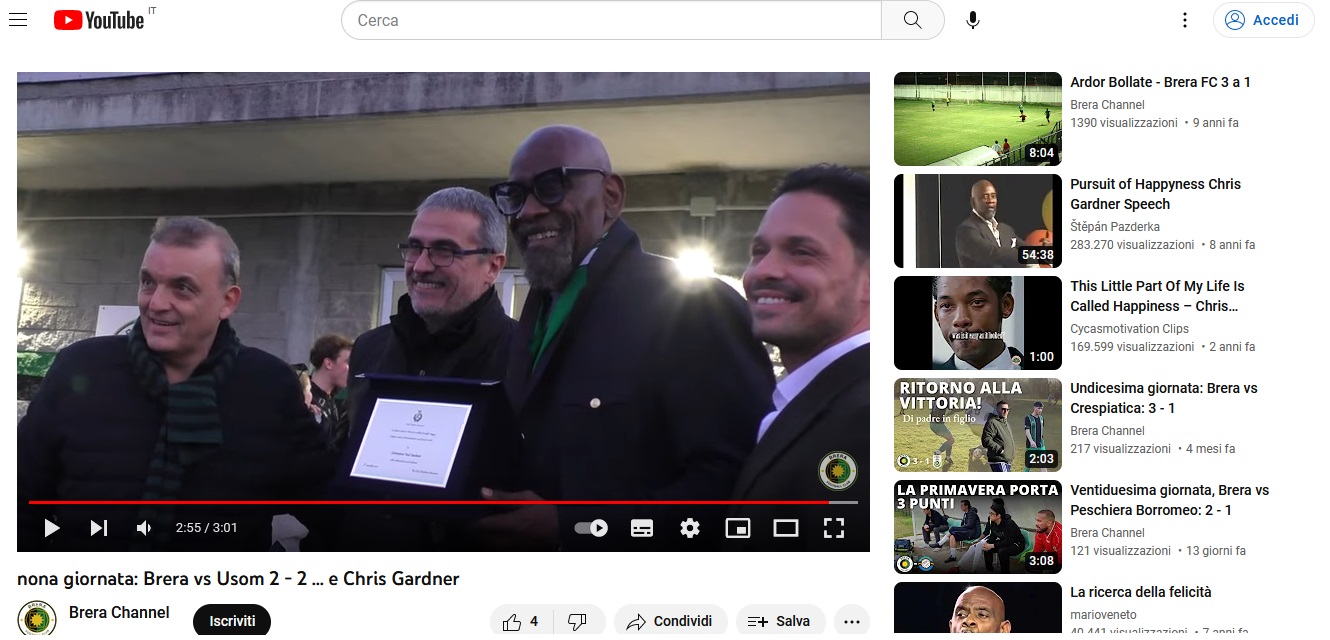 Brera FC Founder Alessandro Aleotti (left) and Brera Holdings Board Member Chris Gardner (second right)  
ABOUT BRERA HOLDINGS PLC:
Brera Holdings PLC is a Nasdaq-listed (Stock Ticker: BREA) Irish holding company focused on expanding social impact football (American soccer) by developing a global portfolio of emerging football clubs with increased opportunities to earn tournament prizes, gain sponsorships, and provide other professional football and related consulting services. The Company seeks to build on the legacy and brand of Brera FC, the first football club that was acquired by the Company. Brera FC, known as "The Third Team of Milan," is an amateur football association which has been building an alternative football legacy since its founding in 2000. The Company is focused on bottom-up value creation from sports clubs and talent outside mainstream markets, innovation-powered business growth, and socially impactful outcomes. See www.breraholdings.com
Cautionary Note Regarding Forward-Looking Statements
This press release contains forward-looking statements that are subject to various risks and uncertainties. Such statements include statements regarding the Company's ability to grow its business and other statements that are not historical facts, including statements which may be accompanied by the words "intends," "may," "will," "plans," "expects," "anticipates," "projects," "predicts," "estimates," "aims," "believes," "hopes," "potential" or similar words. Actual results could differ materially from those described in these forward-looking statements due to a number of factors, including without limitation, the Company's ability to continue as a going concern, the popularity and/or competitive success of the Company's acquired football teams, the Company's ability to attract players and staff for acquired clubs, unsuccessful acquisitions or other strategic transactions, the possibility of a decline in the popularity of football, the Company's ability to expand its fanbase, sponsors and commercial partners, general economic conditions, and other risk factors detailed in the Company's filings with the SEC. The forward-looking statements contained in this press release are made as of the date of this press release, and the Company does not undertake any responsibility to update such forward-looking statements except in accordance with applicable law.
CONTACT INFORMATION
FOR MEDIA AND INVESTOR RELATIONS
Outside Italy:
Daniel McClory, Executive Chairman
Brera Holdings PLC
dan@breraholdings.com
In Italy:
Sergio Scalpelli, CEO
Brera Holdings PLC
sergio@breraholdings.com 
Attachments