REDWOOD CITY, Calif., Feb. 06, 2023 (GLOBE NEWSWIRE) -- Sumo Logic (NASDAQ: SUMO), the SaaS analytics platform to enable reliable and secure cloud-native applications, today announced that CRN®, a brand of The Channel Company, has recognized Timm Hoyt, Senior Vice President of Global Partners and Alliances, on its 2023 Channel Chiefs list. Every year, this list honors the IT channel executives who work tirelessly to advance the channel agenda and deliver successful channel partner programs and strategies.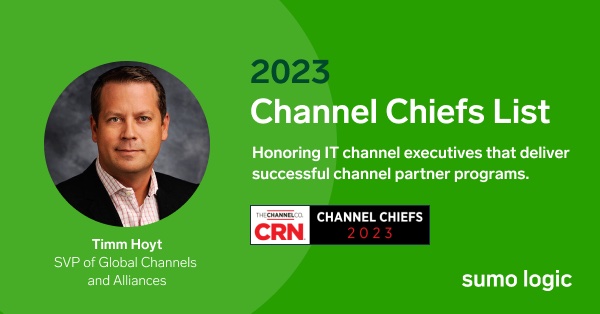 As a technology industry veteran with a track record of delivering robust product integration and go-to-market partner strategy, Hoyt is focused on driving market leadership by advancing global partnerships for Sumo Logic. He brings deep international operations and leadership expertise, with more than 20 years of experience living and operating in the EMEA, AMER, and APJ markets.
"I will build on this great Channel Chiefs honor this year to further solidify our partner relationships as the bedrock of our channel program and growth," said Timm Hoyt. "Enterprises prioritize budgets to solutions that ensure the security and reliability of their digital services while reducing tool duplication. Sumo Logic solves this problem as the bridge for the next wave of innovators to gain a 360-view of their business and more informed decision-making, where our partner community is at the epicenter in driving modernization on behalf of our shared customers."
The 2023 CRN Channel Chiefs were selected by the editorial staff based on their record of business innovation and dedication to the partner community. This year's list represents the top IT executives responsible for building a robust channel ecosystem.
"Once again, this year's list gives well-deserved recognition to the IT Channel Chiefs who are dedicated to driving the channel agenda and advocating for the development of strong channel partnerships," said Blaine Raddon, CEO of The Channel Company. "Under their exceptional leadership, influence, and innovation, the IT channel vendor community continues to deliver solutions and services that meet the rapidly evolving needs of their solution provider partners and their customers."
The 2023 CRN Channel Chiefs list will be featured in the February 2023 issue of CRN Magazine and online at www.CRN.com/ChannelChiefs.
About Sumo Logic
Sumo Logic, Inc. (NASDAQ: SUMO) empowers the people who power modern, digital business. Through its SaaS analytics platform, Sumo Logic enables customers to deliver reliable and secure cloud-native applications. The Sumo Logic Continuous Intelligence Platform™ helps practitioners and developers ensure application reliability, secure and protect against modern security threats, and gain insights into their cloud infrastructures. Customers around the world rely on Sumo Logic to get powerful real-time analytics and insights across observability and security solutions for their cloud-native applications. For more information, visit www.sumologic.com.
Sumo Logic is a trademark or registered trademark of Sumo Logic in the United States and in foreign countries. All other company and product names may be trademarks or registered trademarks of their respective owners.
About The Channel Company
The Channel Company enables breakthrough IT channel performance with our dominant media, engaging events, expert consulting and education, and innovative marketing services and platforms. As the channel catalyst, we connect and empower technology suppliers, solution providers, and end users. Backed by more than 30 years of unequaled channel experience, we draw from our deep knowledge to envision innovative new solutions for ever-evolving challenges in the technology marketplace. www.thechannelcompany.com
Follow The Channel Company: Twitter, LinkedIn, and Facebook.
© 2023 The Channel Company, LLC. CRN is a registered trademark of The Channel Company, LLC. All rights reserved.
Media Contacts
Carmen Harris, Sumo Logic
charris@sumologic.com
Jenna Shikoff, RH Strategic
SumoLogicPR@RHStrategic.com
The Channel Company Contact:
Natalie Lewis
The Channel Company
nlewis@thechannelcompany.com
A photo accompanying this announcement is available at https://www.globenewswire.com/NewsRoom/AttachmentNg/5319fe77-40cb-4c00-a370-7b5998d8ba3b