Cedar Park, TX - Water Damage and Roofing of Cedar Park is the go-to roofing and restoration company in Cedar Park. They are available 24/7 for roof damage repairs and other services such as fixing leaky roofs, burst pipes, and natural disasters in Texas.
Water Damage and Roofing of Cedar Park is fully licensed and insured for guaranteed peace of mind. The company works directly with insurance companies to deliver services. The roofing contractor is Owens Corning certified, a CertainTeed preferred contractor, GAF- ELK preferred pros, and a member of the Roofing Contractors Association of Texas.
Their roofing services include new roofing, roof replacements, reroofs, metal roof installation, flat roof installation, roof inspections, roof estimates, hail damage roofing, and more. They install and replace various roof types, including slate tiles, ceramic, wood shakes, asphalt shingles, steel roofing, and commercial roofing.
Water damage can result in expensive repairs and life-threatening allergies and diseases. Water damage restoration, therefore, needs to be carried out before the damaged spaces are considered safe to inhabit again. During emergencies, the roofing company Cedar Park sends an experienced team immediately, and if the storm is too severe, they can provide temporary solutions until quality repairs are done.
The team at the Water Damage and Roofing of Cedar Park consists of highly skilled experts who handle various projects. Their plumbers use the latest state-of-the-art equipment to handle a myriad of plumbing problems in case of water damage.
Their roofers are certified, with years of experience in the roofing industry. They offer advice and insight when working on various projects and a variety of services without compromising on quality.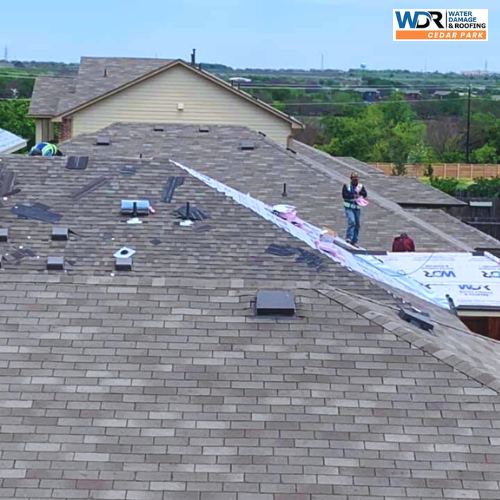 A happy client had this to say about the services offered by the company, "The one thing I loved about the roofing contractor is their honesty, straightforwardness, and professionalism. They were informative about the various roofing materials and helped us to choose the most appropriate one for our roof. The workmanship was impressive, and everything looked perfect after installation. My roof looks fantastic and I recommend them to anyone looking for hassle-free services."
The water damage expert can restore and repair roofs and also rebuild various structures such as roof shingles, decking, roofing trusses, HVAC systems, walls ceilings, and floors. They can also rebuild water pipes and sewage lines, carpets, and flooring water removal. 
Water Damage and Roofing of Cedar Park is top-rated and has maintained an A+ rating on Better Business Bureau with zero complaints.
Water Damage and Roofing of Cedar Park is headquartered at 305 Spanish Mustang Dr, Cedar Park, TX, 78613, USA. For a free quote and other inquiries, clients can call the company at (512) 566-5510. They can also visit their website for a photo gallery of their latest projects and more information on their services.
Media Contact

Company Name
Water Damage and Roofing of Cedar Park
Contact Name
Brad Farr
Phone
(512) 566-5510
Address
305 Spanish Mustang Dr
City
Cedar Park
State
TX
Postal Code
78613
Country
United States
Website
https://cedarparkroofingandwaterdamage.com/