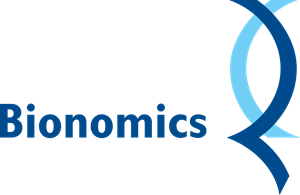 Bionomics Limited (Nasdaq: BNOX) (ASX: BNO) shares are attracting investor attention. And rightly so, noting that the company is nearing the commencement of potentially two near-term Phase 3 trials to treat critical unmet medical needs. The first to enter the Phase 3 arena could be the company's drug candidate to treat Post Traumatic Stress Disorder (PTSD), a logical presumption considering that BNOX announced in August that the last patient visit had been completed in its Phase 2 ATTUNE study. Topline results from Phase 2b are expected this month. 
The second targets another critical unmet patient need to treat Social Anxiety Disorder (SAD). Leading toward its second Phase 3 trial, Bionomics disclosed expectations for its End of Phase 2 meeting for its PREVAIL trial with the FDA to happen in September. The company hopes to leave that meeting with a more determined date to commence a proposed Phase 3 registrational trial for that drug. As they should, the updates have significantly and positively impacted BNOX shares, evidenced by an over 60% increase since the third week of August. Shares reached an intraday high of $1.98 earlier this week and are holding ground after sensible profit-taking. BNOX stock is currently trading at $1.92 a share. (* share price of $1.92 at 10:40 AM EST, Yahoo! Finance)
Considering what's in play during September alone, the bullish sentiment and action are warranted. Specifically, investors can expect to read at least two updates regarding its PTSD and SAD trials. That guidance was provided in August, with the timing of release expectations putting at least two potential catalysts in the crosshairs.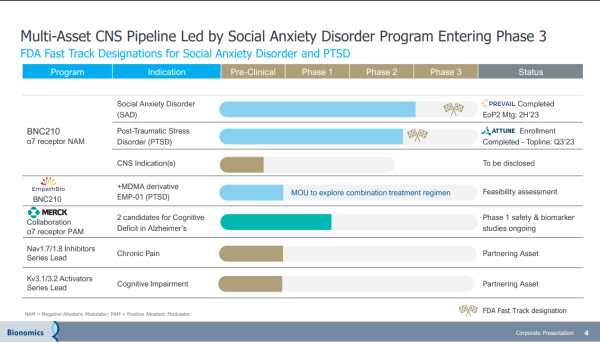 Fueling A Rally In Progress
Here's better news for BNOX investors- they aren't the only ones bullish on BNOX prospects. Analysts are also, with at least two modeling for Bionomics shares to surge by over 264% to $7.00 from current levels in the next 12 months. They present a strong case for why, emphasizing the implied value of BNOX drug candidates that can potentially earn front-line treatment designations for unmet medical conditions, particularly patients suffering from serious central nervous system ("CNS") disorders. The company is also optimistic about its future.
Spyros Papapetropoulos, M.D., Ph.D., President and CEO of Bionomics, said, "We continue our strong momentum with our fast track designated BNC210, with a robust clinical and regulatory milestone-rich year in both SAD and PTSD, two highly prevalent neuropsychiatric disorders with significant unmet needs." That momentum can be added to, noting BNOX plans to release topline results for its ATTUNE trail and provide better insight for when it intends to commence its Phase 3 PREVAIL trial. That type of news does carry value with it. So much so that even the lofty $7.00 price target may be conservative. While reaching that level may not happen overnight, it paves the likeliest path of least resistance for BNOX shares higher. 
Keep in mind, too, that BNOX shares traded as high as $10.90 in the past 52 weeks, and they are better positioned today to advance its key drug candidates into Phase 3 studies. Thus, by being on a pathway to drug commercialization, re-claiming that high, a likely proposition in 2024, could be a reasonable expectation. If it does, BNOX investors could score gains of over 467% from its current $1.92.
Transforming Milestones Into Catalysts
That's not an overzealous presumption. Except for some profit-taking on Wednesday, the BNOX chart over the past month shows a steepening trajectory. As noted, that's no coincidence. Investors are seizing low-priced entry into a company on the precipice of a breakout, leveraging intrinsic and inherent value from its lead drug candidate, BNC210. It's an oral, proprietary, selective negative allosteric modulator of the α7 nicotinic acetylcholine receptor for the acute treatment of SAD and chronic treatment of PTSD. It's not the only promising asset.
Beyond BNC210, Bionomics has a strategic partnership with Merck (NYSE: MRK), evaluating two drugs in early-stage clinical trials to treat cognitive deficits in Alzheimer's disease and other central nervous system conditions. The BNOX pipeline extends further, with preclinical assets targeting Kv3.1/3.2 and Nav1.7/1.8 ion channels being developed for Central Nervous System ("CNS") conditions with high unmet needs. That's not all. 
In addition to topline data from its placebo-controlled Phase 2b ATTUNE study of BNC210 in PTSD and taking guidance from its FDA End of Phase 2 meeting for its PREVAIL trial, which could establish the pathway to a registrational program for BNC210 in Social Anxiety Disorder, investors can also look forward to the company leveraging its partnership with Merck for Phase 1 candidates targeting cognitive deficits in Alzheimer's and other CNS disorders is expected to gain clinical trial traction. There's more to appreciate.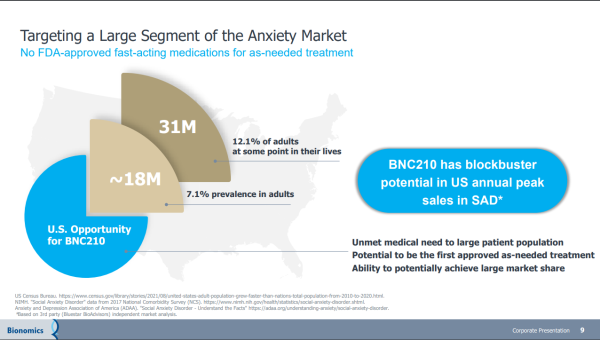 Aiming For Blockbuster Drug Candidate Approvals
Bionomics has a memorandum of understanding with EmpathBio for the feasibility assessment of EMP-01 (MDMA derivative) & BNC210 for PTSD treatment. If acted on, it represents another value driver that could feed off that drug candidate's blockbuster potential. A blockbuster drug generates annual sales of $1 billion or more for the company that sells it. The promise of BNC210 checks that box, highlighted by its non-sedating anxiolytic profile and rapid onset of action, which adds to the potential of becoming a first & best-in-class therapeutic for the acute treatment of Social Anxiety Disorder. If approved, it could be the first, as-needed treatment for SAD with a non-sedating, non-habit-forming profile.
Other partnering opportunities are also in play, with BNOX hinting at potential collaborations with preclinical assets targeting potassium (Kv) and sodium (Nav) ion channels. With drug candidates on the pathway to earning front-line designations and scoring blockbuster revenues, future development agreements with big pharma are more likely than not. That makes sense. Big pharma giants like Pfizer (NYSE: PFE), AbbVie (NYSE: ABBV), and Johnson & Johnson (NYSE: JNJ) have become acquirers instead of developers over the last decade, a strategy turning microcap biotechs into development stars while shaving years off of development time.
Furthermore, the Phase IIb ATTUNE study is evaluating BNC210 as a monotherapy to treat PTSD. Finding an effective treatment is high on the list of any big pharma company, noting the blockbuster potential. Thus, don't rule out the possibility of a combination therapy approach to treating that debilitating condition, which could trigger a new potential partnership. Those deals generally come with significant upfront cash as well as taking over the more considerable burden of trial costs. 
Data Supports Potential Partnership Interest 
Such a deal is very much in play, resulting from impressive data evaluating BNC210 in its Phase 2 PREVAIL study for SAD. It showed that both 225-mg and 675-mg doses of BNC210 resulted in a decline in anxiety across multiple phases of the public speaking challenge. Notably, patients receiving BNC210 experienced significantly less anxiety during the public speaking task compared to placebo. Treating that indication also comes with over a billion-dollar revenue-generating potential. And with BNOX planning to meet the FDA in mid-September to discuss the clinical requirements for advancing BNC210 into Phase 3 development, a partnership could be closer than many think. Why? 
Because the value difference between a Phase 2 and a Phase 3 company can be hundreds of millions. Considering data from its PREVAIL study impresses evaluators, confidence is high that the Phase 2 PREVAIL study results will support this giant clinical step forward. Moreover, developing a Phase 3 study and its expected data will likely help BNOX submit a new drug application for BNC210 to treat SAD. Meeting expectations and capitalizing on strengths throughout its pipeline adds fuel to turn milestones into catalysts.
Those catalysts are what investors want. More importantly, they are value drivers. And with Bionomics having several in its sights, the value disconnect between assets, programs, partnerships, and its share price may be too wide to ignore. In fact, at $1.92, BNOX shares are priced at where investors would pay for a Phase 1, preclinical stage company. That's certainly not the case with BNOX. 
Bionomics Intent To Change PTSD And SAD Treatment Landscapes
On the contrary, Bionomics is well on its way to changing the treatment landscape for PTST, SAD, and other neurologic conditions. And few, if any, competitors are as near to commercialization, with the amount of supporting data, as Bionomics. That difference, including its depth into Phase 3 trials, can lead to potentially exponential gains in BNOX shares heading into the end of 2023 and all of 2024. 
Plenty supports the bullish speculation. And analysts have laid out most of the case for why BNOX presents a compelling value investment proposition. Remember, reaching analyst price targets put an over 264% gain in play. And they have justified their models. Still, it may also be appropriate to look longer term and focus on breaching its 52-week high of $10.90. Bionomics is, after all, much better positioned today than when they scored that high. In other words, the investment stars may be aligned for a BNOX breakout. If so, current prices are more likely to serve as a springboard rather than a platform.
Disclaimers: Shore Thing Media, LLC. (STM) is responsible for the production and distribution of this content. STM is not operated by a licensed broker, a dealer, or a registered investment adviser. It should be expressly understood that under no circumstances does any information published herein represent a recommendation to buy or sell a security. Our reports/releases are a commercial advertisement and are for general information purposes ONLY. We are engaged in the business of marketing and advertising companies for monetary compensation. Never invest in any stock featured on our site or emails unless you can afford to lose your entire investment. The information made available by STM is not intended to be, nor does it constitute, investment advice or recommendations. The contributors may buy and sell securities before and after any particular article, report and publication. In no event shall STM be liable to any member, guest or third party for any damages of any kind arising out of the use of any content or other material published or made available by STM, including, without limitation, any investment losses, lost profits, lost opportunity, special, incidental, indirect, consequential or punitive damages. Past performance is a poor indicator of future performance. The information in this video, article, and in its related newsletters, is not intended to be, nor does it constitute, investment advice or recommendations. STM strongly urges you conduct a complete and independent investigation of the respective companies and consideration of all pertinent risks. Readers are advised to review SEC periodic reports: Forms 10-Q, 10K, Form 8-K, insider reports, Forms 3, 4, 5 Schedule 13D. For some content, STM, its authors, contributors, or its agents, may be compensated for preparing research, video graphics, and editorial content. Shore Thing Media, LLC. has been compensated up to three-thousand-five-hundred-dollars cash via wire transfer by a third party to produce and syndicate content for Bionomics Limited. for a period of one weeks ending on September 08, 2023. As part of that content, readers, subscribers, and website viewers, are expected to read the full disclaimers and financial disclosures statement that can be found on our website. Contributors reserve the right, but are not obligated to, submit articles for fact-checking prior to publication. Contributors are under no obligation to accept revisions when not factually supported. Furthermore, because contributors are compensated, readers and viewers of this content should always assume that content provided shows only the positive side of companies, and rarely, if ever, highlights the risks associated with investment. Thus, readers and viewers should accept the content as an advertorial that highlights only the best features of a company. Never take opinion, articles presented, or content provided as a sole reason to invest in any featured company. Investors must always perform their own due diligence prior to investing in any publicly traded company and understand the risks involved, including losing their entire investment. The Private Securities Litigation Reform Act of 1995 provides investors a safe harbor in regard to forward-looking statements. Any statements that express or involve discussions with respect to predictions, expectations, beliefs, plans, projections, objectives, goals, assumptions or future events or performance are not statements of historical fact may be forward looking statements. Forward looking statements are based on expectations, estimates, and projections at the time the statements are made that involve a number of risks and uncertainties which could cause actual results or events to differ materially from those presently anticipated. Forward looking statements in this action may be identified through use of words such as projects, foresee, expects, will, anticipates, estimates, believes, understands, or that by statements indicating certain actions & quote; may, could, or might occur. Understand there is no guarantee past performance will be indicative of future results. Investing in micro-cap and growth securities is highly speculative and carries an extremely high degree of risk. It is possible that an investors investment may be lost or impaired due to the speculative nature of the companies profiled. 
Media Contact
Company Name: STM, LLC.
Contact Person: Michael Thomas
Email: contact@primetimeprofiles.com
Country: United States
Website: https://primetimeprofiles.com/