Just when we thought we had given away the award for Best hoodie, a surprise contender has entered the ring! The Manhattan Hoodie by Rolling Projects pushes the envelope for understated style. With it's unique outer shell, and the overwhelming coziness of the inner lining, the Manhattan Hoodie has to be the hands down winner of the most comfortable yet stylish Jacket to adorn the human body, ever!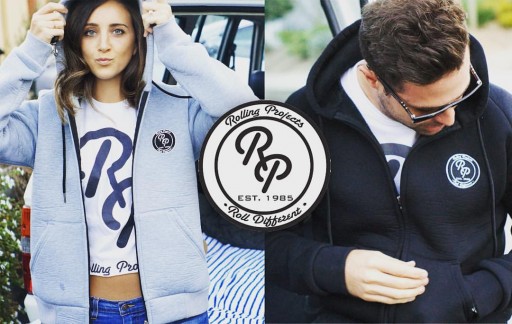 San Francisco, California - January 4, 2016 - (
Newswire.com
)
Rolling Projects, as a brand, started off in the automotive design market; redesigning the rarest and most luxurious cars and trucks from around the world. Its one-off designs and customizations to already limited edition vehicles cemented them as one of the trendiest design shops around. "Our trademark slogan is "Roll Different", and that's exactly what anyone who rides around in one of their builds does. So naturally, the "Roll Different" lifestyle has carried over to apparel." Says RP Creative Director, Leandro Rosas Jr. The transition into apparel has already been a hit with their first manufactured product, the Manhattan Hoodie. "We had such an overwhelmingly positive response to our pre-order campaign that we actually had to have our manufacturing team double the order!" quipped Leandro on how sales were going.
The Manhattan Hoodie looks and feels like it was freshly cut from a wetsuit on the outside (which is actually just premium cotton mixed with other high quality materials), while the inside is most definitely the softest fleece you've ever draped over your body. This makes for a very trendy hoodie that is also extremely comfortable. Prior to their release, so many pre-orders began piling in for all three of their initial colors (Black, Heather Grey, Navy Blue) that the guys over at RP had no choice but to expedite a second round of hoodies to be made, just in time for Christmas.
Now that Christmas has passed, and winter is officially upon us, there's no better time than now to get your hands on one of the hottest (literally, it keeps you really warm) hoodies on the market. Buy yours today at www.rollingprojects.com/collections/onshore
About Rolling Projects
Rolling Projects is a young apparel company, which was first inspired by our work designing and rebuilding vintage cars and trucks. Our style is clean, simple, and somewhat understated. Our Motto, "Roll Different", refers to being yourself and showing off who you are by what you wear and how you "Roll". www.rollingprojects.com
Press Contact:                        
Leandro Rosas Jr.                                
Phone: (650) 333-1774
Email: Leandro@rollingprojects.com
Contact Info:
Rolling Projects
268 Harbor Blvd
Belmont
Ca 94002
United States
Press Release Service by
Newswire.com
Original Source:
Rolling Projects Creates Coolest Hoodie of All-Time