--News Direct--
Popular web hosting mogul GoDaddy reported a huge data breach in late 2022. Hackers had stolen source code and installed malware on servers due to a cPanel breach. According to reports, the incidents were part of a multi-year campaign, especially alarming to GoDaddy's client base. CEO Alain Ghiai of Sekur Private Data Ltd. (OTCQX: SWISF) (CSE: SKUR) (FRA: GDT0) recently spoke to New to The Street to share his thoughts on these data hacks and how Sekur is different.
Ghiai shares that GoDaddy operates on open-source technology. For those that are unfamiliar, open-source software is software with source code that anyone can inspect, modify and enhance. In other words, the software design is publically accessible. Programmers who have access to a computer program's source code can change or hack anything they have available.
The majority of Big Tech is open source because at the turn of the century when Web 2.0 was expanding, open source allowed developers to share code and create usable solutions to expand technology. These days open source is considered a vulnerability. The multi-year GoDaddy data breach drives this point home.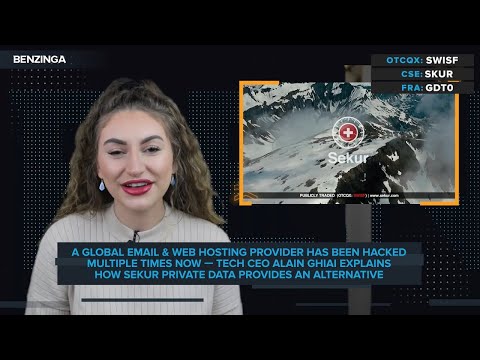 That's why Ghiai preaches the importance of closed-source software and why his company, Sekur, stands out from the crowd when it comes to privacy and security. Proprietary or closed-source software is the opposite of open source. These networks and programs have a source code that can only be modified by the person, team or organization who created it and maintains exclusive rights to it.
Sekur is an example of a proprietary or closed source. Sekur is a US-listed cybersecurity and internet privacy company that provides private and secure communications and data management. It uses military-grade encryption security and combines it with its proprietary encryption and Swiss data privacy laws. Since its wholly-owned servers are hosted in Switzerland, all user data is protected by the Swiss Federal Data Protection Act (FADP) and the Swiss Federal Data Protection Ordinance. The company's use of some of the strongest privacy protection in the world for individuals and entities makes its Swiss-hosted services attractive. Additionally, it uses its own servers and does not host its software with any Hyperscaler, or big tech hosting companies, and does not sell or lend any of its user's data, guaranteeing full privacy.
Sekur is a closed-loop platform with multiple layers of privacy and security. Its products like SekurMail, SekurMessenger and SekurVPN offer users complete privacy because their code is unavailable for the manipulation that causes hacks. In the 10 years that Sekur has existed, they have had zero ransom instructions from hackers. Sekur has successfully built a brand that prides itself on state-of-the-art technology allowing for secure and private communication.
This article was originally published on Benzinga here.
Sekur Private Data Ltd. is a Cybersecurity and Internet privacy provider of Swiss hosted solutions for secure communications and secure data management. The Company distributes a suite of secure cloud-based storage, disaster recovery, document management, encrypted e-mails, and secure communication tools. Sekur Private Data Ltd. sells its products through its websites www.sekur.com and www.sekursuite.com, and approved distributors, and telecommunications companies worldwide. Sekur Private Data Ltd. serves consumers, businesses and governments worldwide.
This post contains sponsored advertising content. This content is for informational purposes only and is not intended to be investing advice.
Contact Details
Corporate Department
corporate@sekurprivatedata.com
Company Website
View source version on newsdirect.com: https://newsdirect.com/news/a-global-email-and-web-hosting-provider-has-been-hacked-multiple-times-now-tech-ceo-alain-ghiai-explains-why-this-keeps-happening-and-how-sekur-private-data-provides-an-alternative-548614063